Acuvue Oasys for Astigmatism With Hydraclear Plus | 6 pack
$54.99
(per box after discount)
Reg:

$54.99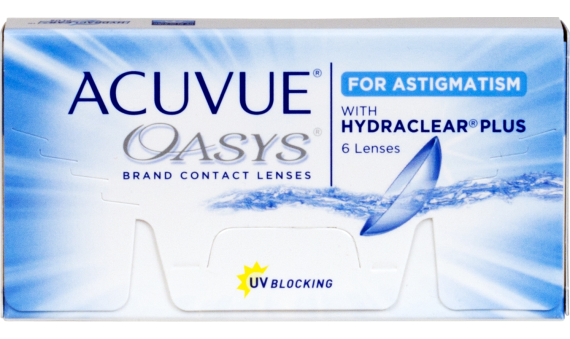 Details
Lens type: 1-2 week disposable soft contact lenses
Package details: 6 tinted UV blocking lenses in a buffered saline solution
Material and % of content: 62% polymer (Senofilcon A)
Water % of content: 0.38
Manufacturer: Johnson & Johnson
Description
Finding comfortable contacts for any vision correction can be a challenge and back in the day, finding contact lenses for eyes with astigmatism was even more so. Now, though, Acuvue Oasys for Astigmatism with Hydraclear Plus 24 pack offers you all the comfort you need while working with the added concern of astigmatism which creates an irregular curvature of the eyes.
The lenses are designed for use for one to two weeks before disposal and offer UV blocking protection in a buffered saline solution for comfort and safety for your eyes. Each package of Acuvue Oasys for Astigmatism with Hydraclear Plus comes with six tinted lenses made of 62% polymer (Senofilcon A).
The lenses are made with 1-Day HydraLuxe technology and Acuvue's Accelerated Stabilization Design technology to relieve the painful problem of lenses rotating during blinking or rapid eye movement. So, whether you spend all day at the computer and looking at mobile screens or hours outdoors in challenging environments, your eyes are taken care of with comfort.
Acuvue lenses are made by well-trusted Johnson & Johnson.
See all Acuvue products.
Related Products
Shop by Lens Type