Acuvue Oasys for Astigmatism With Hydraclear Plus | 6 pack
$43.99
20% off lenses
Regular price $54.99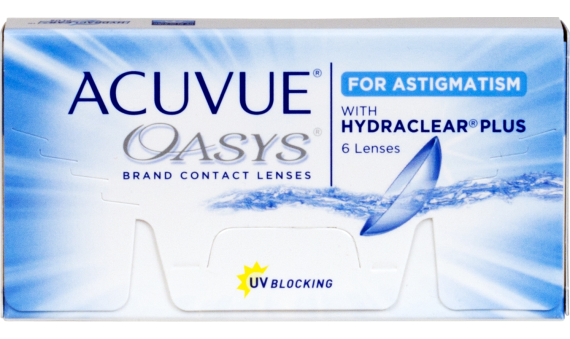 Details
Lens type: 1-2 week disposable soft contact lenses
Package details: 6 tinted UV blocking lenses in a buffered saline solution
Material and % of content: 62% polymer (Senofilcon A)
Water % of content: 0.38
Manufacturer: Johnson & Johnson
Description
About Toric Contact Lenses
If you have an astigmatism, the clear covering over the front of your eye called the cornea is irregularly shaped. This means that traditional contact lenses are unlikely to fit you comfortably and to provide optimal vision correction. Toric contact lenses like Acuvue Oasys for Astigmatism With Hydraclear Plus address this problem. Instead of being perfectly round, toric lenses have a donut-like shape with varying levels of power across their surface.
Stabilized for Clearer Vision
While traditional toric lenses do make it possible for people with astigmatism to reap the benefits of contact lens wear, they can pose problems for wearers. Ordinary toric lenses are prone to rotating when wearers blink or move their eyes rapidly, and this can lead to blurred vision. Acuvue Oasys for Astigmatism With Hydraclear Plus lenses help to eliminate this problem with Blink Stabilization technology. The design of the contacts helps to keep the contacts securely in place and facing the right direction through all of your eye movements and during every blink.
Comfort and Protection for All-Day Wear
With Acuvue Oasys for Astigmatism With Hydraclear Plus lenses, you can enjoy hours of comfortable wear. The lenses feature Hydraclear Plus technology, meaning that tiny molecules that mimic the actions of substances found in your tears are embedded in the surface of the contacts. This allows the lenses to retain a large amount of moisture, so that the contacts stay flexible and soft when you blink and move your eyes. Acuvue Oasys for Astigmatism also provides the highest level of UV-blocking protection among disposable contacts for your peace of mind.