Acuvue Oasys With Hydraclear Plus | 24 pack
$131.99
20% off lenses
Regular price $164.99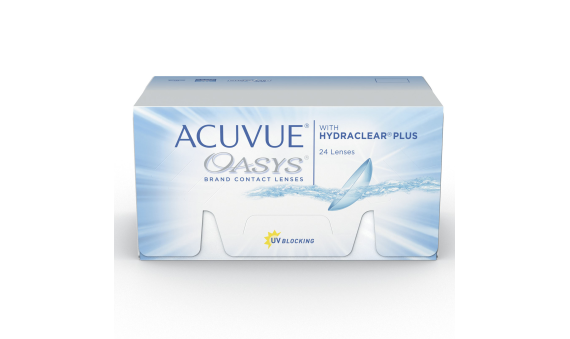 Details
Lens type: 1-2 week soft disposable contact lenses
Package details: 24 lenses in buffered saline with methyl ether cellulose
Material and % of content: 62% polymer (Senofilcon A)
Water % of content: 0.38
Manufacturer: Johnson & Johnson
Description
Replace Every Two Weeks
Acuvue Oasys With Hydraclear Plus contact lenses give you all the benefits of biweekly disposable contact lenses. Because you'll be replacing your contacts every one to two weeks, you won't have to perform the periodic deep cleaning that non-disposable contacts require. The replacement schedule also means fewer protein deposits, decreasing your risk of developing certain infections associated with contact lens wear. Compared to daily disposables, biweekly disposables like Acuvue Oasys are a more economical option. This pack gives you 24 lenses, roughly a three-month supply with a biweekly replacement schedule.
Exceptional Comfort
In 20 clinical studies, Acuvue Oasys With Hydraclear Plus lenses were shown to rank first for comfort with wearers reporting that they can wear their contacts for longer periods of time during the day without experiencing unpleasant symptoms of dryness. The comfortable feel of the lenses is owed to Hydraclear Plus technology that creates a stable film over the surface of the contact. As a result, the lenses are able to retain more moisture during the day. The comfort level and crisp clear vision provided by the lenses has made Acuvue Oasys With Hydraclear Plus contacts the number one prescribed brand for first-time contact lens wearers.
Sun Protection for Your Eyes
Acuvue Oasys With Hydraclear Plus contacts provide the highest degree of UV protection among disposable contact lenses currently available on the market today, giving you peace of mind that your eyes are protected from the harmful effects of ultraviolet energy whenever you're wearing them. Experts caution that you should still wear UV-protective sunglasses when you're outside for long periods of time.