Acuvue Oasys With Hydraclear Plus | 24 pack
$159.99
(per box after discount)
Reg:

$159.99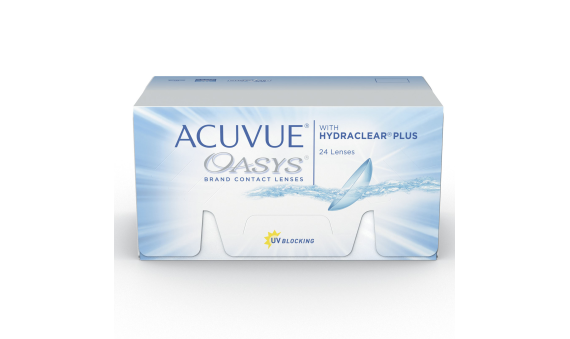 Details
Lens type: 1-2 week soft disposable contact lenses
Package details: 24 lenses in buffered saline with methyl ether cellulose
Material and % of content: 62% polymer (Senofilcon A)
Water % of content: 0.38
Manufacturer: Johnson & Johnson
Description
From one of the most well-known and well-trusted brands of contact lenses, you'll find that Acuvue Oasys contact lenses with HYDRACLEAR Plus 24 pack will provide you will a truly comfortable experience. These contacts are designed specifically to keep your eyes moist and comfortable all day long.
Acuvue Oasys lenses are so comfortable, thanks to the 62% polymer (senofilcon A) material, that you'll forget you're wearing contacts at all! And thanks to the Hydraclear Plus technology, the lenses help reduce dryness and itching. So put away the rewetting drops! They're also one of the most protective lenses available, giving you 99% protection against UV-B and 95% protection against UV-A rays.
The Acuvue Oasys contact lenses with Hydraclear Plus 24 pack are designed for wearing for one to two weeks before disposing of them. Each package contains six sets (12 lenses) in buffered saline with methyl ether cellulose.
See all Acuvue products.
Related Products
Shop by Lens Type