DAILIES AquaComfort Plus | 90 pack
$66.99
(per box after discount)
Reg:

$66.99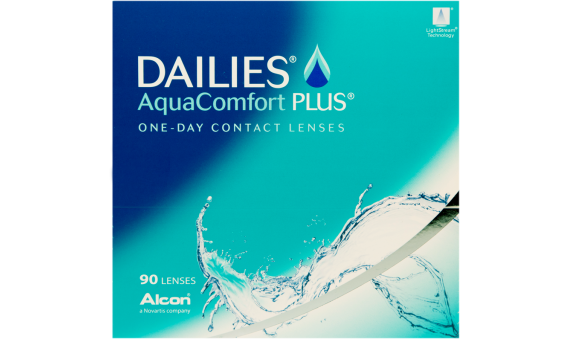 Details
Lens type: Daily disposable soft contact lenses
Package details: 30 sterile soft contact lenses immersed in isotonic phosphateï¾—acetate buffered saline solution
Material and % of content: 31% nelfilcon A
Water % of content: 0.69
Manufacturer: Alcon
Description
Designed for First-Timers
DAILIES AquaComfort Plus contact lenses are often prescribed for individuals who have never worn contacts before, including children, adolescents, and adults. The lenses are one-day disposables, meaning that they are only worn once and then thrown away. As a result, wearers don't have to worry about daily cleaning or proper overnight storage. In one box, you'll find 90 lenses for a supply that lasts roughly three months.
Great for Those With Discomfort
Not just for first-timers, DAILIES AquaComfort Plus contact lenses are also frequently recommended for people who have tried other contact lenses before without success. Thanks to their exclusive technologies, the contacts can provide a more comfortable solution for vision correction than other disposable lenses on the market.
Immediate Comfort
Some people find that their contacts feel uncomfortable after insertion or have a difficult time adjusting to contacts right away. DAILIES AquaComfort Plus lenses address this problem with HPMC, a polymer present in the lens packaging. When you insert the contacts, HPMC acts as cushion to help the eyes adjust more quickly and provide a more comfortable initial wearing experience.
Refresh Your Eyes With Every Blink
Every time that you blink, DAILIES AquaComfort Plus contacts refresh your eyes. The contacts feature Blink-Activated Moisture Technology with PEG and PVA. These two materials work together to reduce friction against the eyelid and to attract moisture from your natural tears. As a result, the contacts fit more optimally and retain more hydration for clearer vision and more comfortable eyes all day long.
See all DAILIES products.
Related Products
Shop by Lens Type
Related Articles