PureVision 2 | 6 pack
$49.58
(per box after discount)
Reg:

$66.11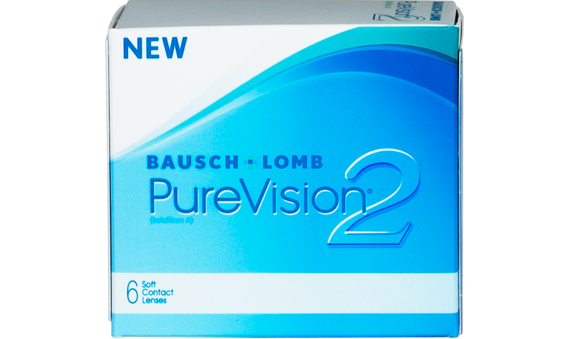 Details
Lens type: Monthly disposable soft contact lens
Package details: 6 contact lenses immersed in a solution of borate buffered saline
Material and % of content: 64% balafilcon A
Water % of content: 0.36
Manufacturer: Bausch & Lomb
Description
With longer workdays and more hours spent looking at a variety of digital devices, you need vision correction that can keep up with the demands of today's busy lifestyle. Thanks to the new PureVision® 2 contact lenses from Bausch & Lomb, you can experience incredibly crystal clear vision that lasts all day long. These HD Optic lenses are designed to help keep halos and glare to a minimum, especially in low light conditions. A combination of outstanding comfort and breathability makes the PureVision® 2 contact lenses a wise choice for anyone who needs effective vision correction.
The PureVision® 2 contact lenses are approved for daily wear and for up to 30 days of continuous wear. At the end of 30 days, simply discard your lenses and insert a new pair. Say goodbye to worrying about having to constantly clean and sanitize your contact lenses. These new contacts make life easy so you can continue doing the things you love. The thin lens design ensures a natural feel for optimum comfort that lasts throughout your day.
A lightweight, breathable material delivers oxygen to help your eyes stay healthy and bright. This is crucial to maintain eye health since your eyes need a steady stream of oxygen. If you're concerned about working on the computer and how it relates to your quality of eyesight, consider PureVision® 2 contact lenses from Bausch & Lomb. Ask your eye care professional about these unique contact lenses to find out if they're right for you and your needs.
See all PureVision products.
Shop by Lens Type