Showing 1-9 of
9 products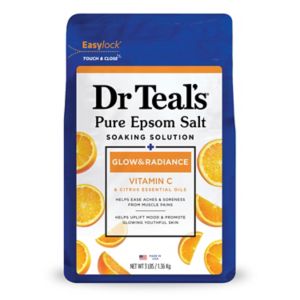 Dr Teal's Pure Epsom Salt Soaking Solution, Glow & Radiance with Vitamin C & Citrus Essential Oils
Dr Teal's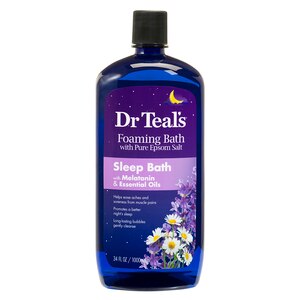 Dr Teal's Melatonin Sleep Foaming Bath
Dr Teal's
Dr Teal's Foaming Bath Relax & Relief with Eucalyptus Spearmint
Dr Teal's
Prices may vary from online to in store.
Is Dr. Teals cruelty free?
Dr. Teal's has stated that the brand is cruelty-free and does not test finished products or ingredients on animals. The brand does not source anything nor use suppliers or third parties that test on animals. Dr. Teal's does not sell its products to countries like China, where animal testing is required by law. The products are also 100% vegan, which means that no animal products are used in anything sold by the brand.
What are the ingredients in Dr. Teals?
Dr. Teal's products use a variety of natural ingredients, depending on the product purchased. Some examples of ingredients found in Dr. Teal's products include shea, melatonin, rose, honey, eucalyptus, and more. The brand's line of Epsom salt soaks are comprised of natural Epsom salt along with other natural ingredients including essential oil for fragrance and coconut oil for moisturizing, for example.
How much Dr. Teals do I use?
Dr. Teal's Epsom salt soaks can help to soothe sore muscles and make you feel relaxed. To use the product, pour at least two cups under warm, running bath water and soak for about 20 minutes. To use the brand's Epsom salt scrubs, massage the product onto the skin in gentle, circular motions to help remove rough, dry areas. Rinse your skin clean after application. For all other Dr. Teal's products, be sure to follow the directions for use as indicated on the packaging.