Showing 1-20 of
21 products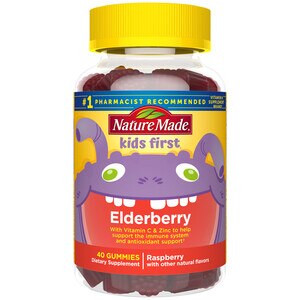 Nature Made Kids First Elderberry Gummies with Vitamin C and Zinc, 40 CT
Nature Made
Buy 1, Get 1 Free - Add 2 or more to qualify!
Zarbee's Naturals Children's Elderberry Immune Support*, Vitamin C & Zinc, Berry, 21 Gummies
Zarbee's Naturals
Nature's Answer Select Kids' Sambucus Black Elderberry Plus Vitamin C *& Zinc Chewable Tablet, 45 CT
Nature's Answer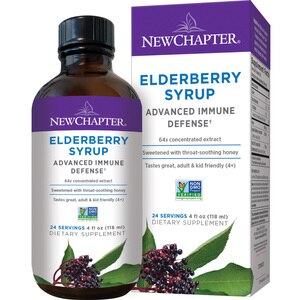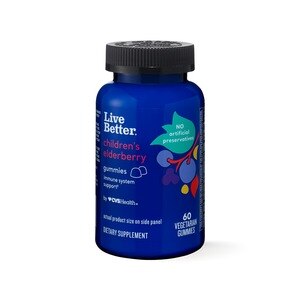 Live Better Children's Elderberry Gummies, 60 CT
Live Better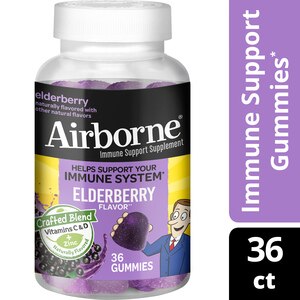 Airborne Elderberry Gummies + Vitamin C A E & Zinc Immune Supplement, 36 CT
Airborne
Buy 1, Get 1 50% Off - Add 2 or more to qualify!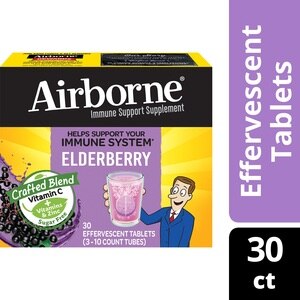 Airborne Elderberry + Vitamin C A E & Zinc Effervescent Tablets, 30 CT
Airborne
Buy 1, Get 1 50% Off - Add 2 or more to qualify!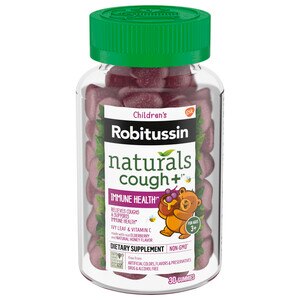 Children's Robitussin Naturals Cough Relief & Immune Health Honey & Elderberry Gummies, Dietary Supplement, 30ct, Ages 3+
Robitussin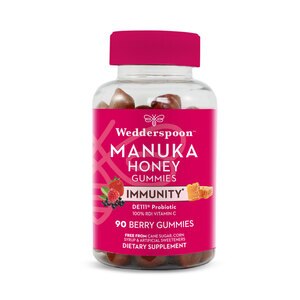 Wedderspoon Manuka Honey Immunity Gummies, 90 CT
Wedderspoon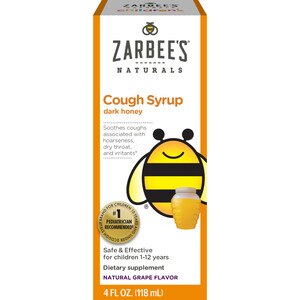 Zarbee's Naturals Children's Cough Syrup with Dark Honey, Grape, 4 Oz.
Zarbee's Naturals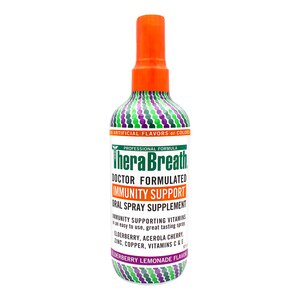 TheraBreath Immunity Support Oral Spray Supplement, 10 OZ
TheraBreath
Zarbee's Naturals Children's Sinus & Respiratory Liquid, Geranium & Bioflavonoids, Daytime, 7OZ
Zarbee's Naturals
Zarbee's Naturals Children's Sleep with Melatonin, Natural Berry, 50 Gummies
Zarbee's Naturals
Prices may vary from online to in store.
Elderberry for Kids
Elderberry for kids is sold in a variety of formats ranging from daily supplements in pill form to flavorful gummies and syrups. Elderberry is rich in vitamin C and other nutrients. Elderberry might not prevent illness altogether, but rather, lessen the symptoms of the flu or common cold. If you give your child elderberry early on in their cold, it can reduce the duration and help them feel better, faster.
Elderberry Syrup for Kids
If you want to help make elderberry more palatable, the syrup may be a good choice. This dark purple syrup has an appealing flavor. If your child has an acute illness, increase the dosage to help them fight it off faster. Never give your child more than the recommended dose, however. Always remember that elderberry syrup may be an option to help your child stay healthy and feel better, but it's not a miracle cure. Talk to your doctor if your child's symptoms don't improve or get worse if they're under the weather.
Elderberry Gummies For Kids
Gummies are a great alternative to syrup, and it can make giving elderberry to your child easier. These delicious gummies can be tempting for little ones, so always store them safely out of reach to avoid the potential for overdose. While elderberry is generally safe, too many gummies could cause stomach discomfort. Read the package and make sure you're only giving your child the recommended dose every day.
Is Elderberry Safe for Kids?
Elderberry is safe for children and adults, but most of the research has been regarding adult consumption of the berry. You should always consult with your health care provider before adding elderberry to your child's diet. There are no guarantees that elderberry won't produce any side effects in your child, so monitor them carefully for any changes. Never use raw elderberry plants since certain parts of the plant can be toxic without proper preparation. Instead, look for brand name elderberry for kids in the form of gummies and syrup to be safe. Children and adults with autoimmune disorders should not take elderberry since it can make the condition worse.
Related Searches
elderberry syrup, elderberry, flu cold prevention, joint pain relief,infant cold medicine, vitamin c serum