Allergy Medicine For Kids
Showing 1-20 of
38 products
Allergy & Asthma For Children
CVS Health All Day Allergy Relief, Cetirizine Hydrochloride Oral Solution 1 mg/mL, Bubble Gum Flavor
CVS Health
CVS Health 24hr Children's Allergy Relief Grape Flavor
CVS Health
Limit 6 per order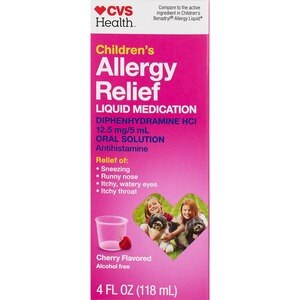 CVS Health Children's Allergy Relief Diphenhydramine HCI Liquid Medication
CVS Health
CVS Health Children's Allergy Relief Sugar Free Grape Loratadine Syrup
CVS Health
CVS Health Cetirizine Hydrochloride Oral Solution 1 mg, Grape Flavor, 4 OZ
CVS Health
Prices may vary from online to in store.
*Online Value Pricing available for select allergy products. Restrictions may apply. Expires December 18, 2021 at 11:59 PM Eastern timeET. Offer available online only. The discount cannot be combined with another product sale running at the same time. Savings are not transferable. No cash back. Tax charged on pre-coupon price where required. Tax and shipping charges are not applicable towards your order total. Offer valid through December 18, 2021. CVS Pharmacy® reserves the right to make changes to or terminate this offer at any time.
Children's Allergy Medicine
When your child is dealing with symptoms of allergies, you want to help him or her feel better as quickly as possible. Over the counter allergy medicine for kids can help to address sudden and chronic allergy symptoms, to help your little one can feel at his or her best. CVS offers a diverse assortment of children's allergy medications that you can buy online.
Antihistamine For Kids
Allergies may occur from your child's immune system having a response to an allergen exposure. When the body comes in contact with an allergen, it mistakes the generally harmless substance for a threat and releases a chemical called histamine to protect itself. Histamine may bind to cells, potentially leading to inflammation. It may be the cause of allergy symptoms like sneezing, nasal congestion, itchy skin and red, watery eyes. Over-the-counter allergy medications help fight the effects of histamine and are called antihistamines as a result. Options made for children come in liquid and chewable forms for easy administration.
Children's Allergy Relief
First-generation antihistamine medications help to address allergy symptoms by acting on an area of the brain to counteract the effects of histamine. These medications include chlorpheniramine and diphenhydramine. The potential benefit of these allergy medications is that they typically go to work quickly to help ease allergy symptoms and may be beneficial for times when sneezing, eye irritation and other problems develop suddenly. On the downside, the effects of first-generation allergy medications typically wear off within a few hours. These medications are also likely to make your child sleepy.
Over The Counter Allergy Medicine For Kids
Second-generation antihistamine medications are newer options for dealing with allergy symptoms. These medications help lessen the effects of histamine for a longer period of time, and typically only need to be taken once daily as a result. In addition, these over-the-counter drugs typically do not cause drowsiness, making them ideal for daily use for children who suffer from chronic allergies year-round or when pollen levels are high. These medications usually take longer to begin providing relief than their first-generation counterparts. Common second-generation antihistamines include loratadine, cetirizine and fexofenadine.
What Is The Best Allergy Medicine For Kids?
Although you can purchase children's allergy medicine without a doctor's prescription, it is still a good idea to consult his or her pediatrician before administering any new allergy medication for the first time, and for prolonged use. Your pediatrician can determine if your child's symptoms are being caused by allergies and recommend the best medicine for easing them. Only use over-the-counter allergy medicine for kids as directed by the manufacturer or your medical provider.
Related Searches
allergy nasal spray for children
,
allergy eye drops for children
,
nasal congestion relief for children
,
congestion relief for babies
,
humidifier for children
,
chewable allergy medicine