Acuvue Oasys 1-Day With HydraLuxe | 90 pack
$82.39
20% off lenses
Regular price $102.99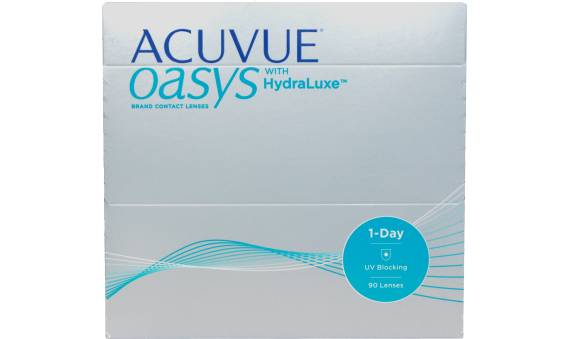 Details
Lens type: Daily disposable soft contact lenses
Package details: 90 contact lenses in buffered saline with methyl ether cellulose
Material and % of content: senofilcon A
Water % of content: 0.38
Manufacturer: Johnson & Johnson
Description
Crisp, Clear Vision
With Acuvue Oasys 1-Day With HydraLuxe lenses, you can improve your vision without the hassles of eyeglasses. The lenses are available with correction for both near and farsighted prescriptions. Studies have found that the lenses increase contrast sensitivity by up to 30 percent. This gives you sharper, brighter, and clearer vision compared to other disposable contacts on the market.
Relief From Tired, Dry Eyes
From the start of your day to its finish, Acuvue Oasys 1-Day With HydraLuxe lenses fit comfortably. The lenses are engineered to address minimize symptoms of tiredness and dryness that are associated with contact lens wear. Acuvue Oasys 1-Day features Hydraluxe, a wetting agent that functions like substances found in your tears. The wetting agent forms a moisturizing film that lasts for hours over your contacts, so that even when you blink, your lenses remain hydrated.
High Level of UV Protection
Exposure to ultraviolet energy can cause damage to your eyes over time, and these negative effects can harm your vision. Acuvue Oasys 1-Day With HydraLuxe lenses are designed to provide some protection for your eyes during daily wear. The lenses block more than 90 percent of all environmental UVA rays and more than 99 percent of all UVB rays, the highest level of protection found in disposable contacts.
Daily Disposable Benefits
Acuvue Oasys 1-Day With HydraLuxe lenses keep your life simple. Each pair is only worn once and then thrown away, so you never have to worry about storage or daily cleaning and disinfecting.