1-Day Acuvue Moist For Astigmatism With Lacreon | 30 pack
$35.99
20% off lenses
Regular price $44.99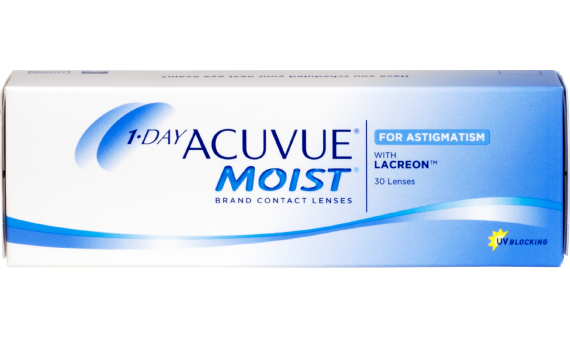 Best deal on this product: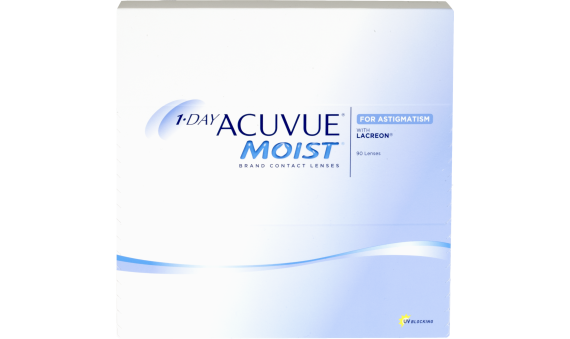 1-Day Acuvue Moist Astigmatism
(90 lenses / box)
Details
Lens type: Daily disposable soft contact lenses for astigmatism.
Package details: 30 lenses immersed in buffered saline solution with Povidone
Material and % of content: 42% polymer (etafilcon A)
Water % of content: 0.58
Manufacturer: Johnson & Johnson
Description
Designed for Those With Astigmatism
Astigmatism can pose problems for individuals who wish to wear contact lenses for vision correction. If you suffer from the vision concern, the clear covering over your eye known as the cornea has an irregular shape that conventional round contacts cannot fit properly. As a result, you may experience blurry optics with ordinary contact lenses in. Toric lenses like 1-Day Acuvue Moist For Astigmatism With Lacreon have an aspherical donut-like shape with different powers across the surface and can allow you to finally see clearly with contacts.
Stabilized for Clearer Vision
Even when wearing toric lenses, people with astigmatism may still experience momentary blurred vision. This is because conventional toric contacts can rotate or slip out of position during rapid eye movements and when you blink. The experts behind 1-Day Acuvue Moist For Astigmatism With Lacreon lenses have developed Blink Stabilization Technology to address this problem. During eye movement and blinking, special eyelid stabilization zones on the lenses hold the contacts in place, so you won't experience interruptions in your vision.
The Lacreon Difference
With 1-Day Acuvue Moist For Astigmatism With Lacreon lenses, you can wear contacts all day with less risk of discomfort due to dryness. That's because these lenses feature LACREON, a substance that is similar to components of your natural tears. LACREON functions like a wetting agent, keeping your eyes hydrated throughout the day. Because the lenses are one-day disposables, you won't have to worry about protein build-ups developing over time and affecting your vision.