Showing 1-5 of
5 products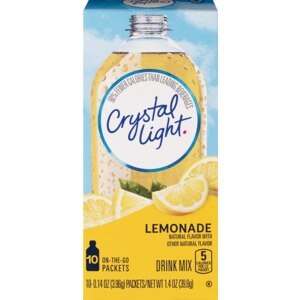 Free shipping with $35+ orders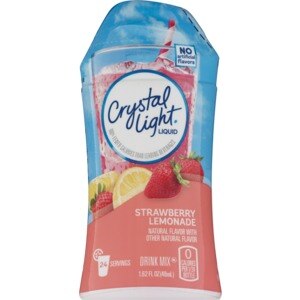 Kraft Foods Crystal Light Strawberry Lemonade 1.62 OZ
Crystal Light
Free shipping with $35+ orders
Limit 4 per order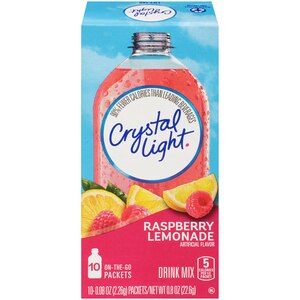 Crystal Light On-The-Go Drink Mix Packets, Raspberry Lemonade, 10 CT
Crystal Light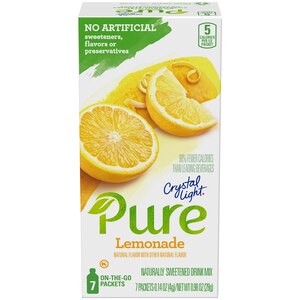 Crystal Light Pure On-The-Go Drink Mix Packets, 7 CT
Crystal Light
Prices may vary from online to in store.
What is Crystal Light?
Crystal light is a low-calorie drink mix originally introduced in the 1980s by General Foods. Today, Crystal Light is one of the many brands sold by the Kraft Heinz Company. Powdered Crystal Light Drink Mixes are available in single-serving packets and multi-serving packages. The company also makes liquid Crystal Light Drink Mix. Crystal Light Liquid Drink Mix is highly concentrated, so each 1.62 oz bottle makes 24 servings. Most flavors have 0-15 calories per serving.
How is Crystal Light sweetened?
The type of sweetener used in Crystal Light drink mixes can vary by flavor and product line. In general, the brand is sweetened with aspartame, sucralose and acesulfame potassium. Aspartame is a sugar substitute made from 2 natural amino acids. The Crystal Light brand also offers a line of drink mixes made without artificial sweeteners, flavors, or preservatives called Crystal Light Pure. Crystal Light Pure drink mixes are sweetened with varying concentrations of dried corn syrup, sugar and stevia leaf extract.
Does Crystal Light have caffeine?
Many Crystal Light flavors, including Crystal Light Lemonade, are caffeine-free. Others have small amounts of caffeine because they're made with instant tea. The Crystal Light product line also includes several moderately caffeinated options. With 60mg of caffeine per packet, Crystal Light with Caffeine is a low-calorie alternative to energy drinks made with large amounts of sugar.
What is in Crystal Light?
The ingredients you'll find in Crystal Light drink mixes tend to vary by product line and flavor. In Crystal Light products made with artificial sweeteners, you'll likely see maltodextrin, citric acid, magnesium oxide, ascorbic acid and artificial flavors listed in the ingredients. Calcium carbonate, xanthan gum, soy lecithin and artificial colors are also common. Crystal Light Pure drink mixes are more likely to be made with sugar, stevia leaf extract, sodium citrate and natural flavors. The list of ingredients could also include magnesium oxide, soy lecithin and natural colors. Although you'll see sugar on the list of ingredients, the Crystal Light Pure product line contains as few as 5 calories per serving.