Showing 1-8 of
8 products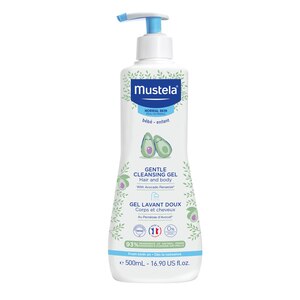 Mustela Gentle Cleansing Gel, 16.9 OZ
Mustela
Limit 6 per order
Prices may vary from online to in store.
How to use Mustela cradle cap shampoo?
To use Mustela cradle cap shampoo, apply a small amount to your baby's wet hair using the pump dispenser. Gently massage the product into your baby's scalp and leave it on for between one and two minutes, then rinse it clean carefully with lukewarm water. This product is hypoallergenic, fragrance-free, and free from parabens and other chemicals. It is safe for newborns and for the environment and helps to cleanse your baby's hair and scalp while minimizing cradle cap flakes. It gently exfoliates and rinses cradle cap flakes away while helping to prevent a recurrence.
What is Mustela cleansing water?
Mustela cleansing water is a plant-based cleanser that keeps delicate baby's skin clean and healthy. This product is formulated with aloe vera leaf extract and natural avocado and is lightly fragranced and hypoallergenic. The micellar water is gentle enough to be used on newborns, and it is dermatologist and pediatrician tested. It offers parents an easy way to gently and quickly cleanse their baby's skin between baths.
How to use Mustela bath oil
To use Mustela bath oil, simply add two or three capfuls to your baby's bathwater. Do not rinse the product off, but bathe your baby for approximately five to ten minutes, then pat your baby dry with a clean towel.