Showing 1-5 of
5 products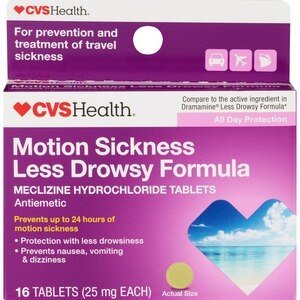 CVS Health Motion Sickness Less Drowsy Formula Meclizine Hydrochloride Tablets
CVS Health
Buy 1, Get 1 40% Off - Add 2 or more to qualify!
CVS Health Motion Sickness Relief Raspberry Flavored Tablet
CVS Health
Buy 1, Get 1 40% Off - Add 2 or more to qualify!
CVS Health Motion Sickness Fast Melting Tablets, 12CT
CVS Health
Buy 1, Get 1 40% Off - Add 2 or more to qualify!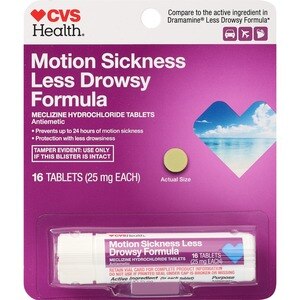 CVS Health Motion Sickness II Less Drowsy Formula Tablets, 16 CT
CVS Health
Limit 4 per order
Prices may vary from online to in store.
What is meclizine hydrochloride?
Meclizine hydrochloride is the generic name for a type of antihistamine. Although doctors generally recommend antihistamines for allergy symptoms, meclizine hydrochloride can also be helpful for gastrointestinal issues and bowel control problems. Researchers credit those benefits to the medication's ability to block the effects of acetylcholine, a neurotransmitter.
Meclizine hydrochloride is also one of several antihistamines known to block H1-histamine receptors. Medications that block these receptors can have a direct impact on structures of the inner ear that send sensory information to the brain, and is often referred to as Dramamine as this is the name brand.
What is meclizine hydrochloride used for?
Doctors often prescribe meclizine hydrochloride when diseases affecting the inner ear cause vertigo, dizziness, nausea, or vomiting. In some cases, a provider might also prescribe the medication for nausea and vomiting caused by cancer treatment or pregnancy. However, most over-the-counter meclizine hydrochloride treatments are formulated to combat motion sickness. CVS offers several meclizine hydrochloride products [hyperlink to https:/ www.cvs.com/shop/content/meclizine-hydrochloride] that have the potential to calm or prevent travel-related dizziness, nausea, and vomiting for up to 24 hours
Can meclizine hydrochloride cause side effects?
Like any other medication, meclizine hydrochloride has the potential to cause side effects. Most are generally mild, but can include headache, dry mouth, fatigue, blurred vision, or drowsiness. Motion sickness treatments can also interact with other medications and cause problems for anyone living with glaucoma or an enlarged prostate. Contact your physician or pharmacist immediately if you develop confusion, a rapid or irregular heart rate, or have difficulty urinating
Can I take meclizine hydrochloride while pregnant?
Motion sickness is fairly common during pregnancy. Even traveling at a slow speed can trigger dizziness, nausea, and vomiting. However, anti-nausea medications are not generally recommended during pregnancy unless symptoms are persistent and severe. Motion sickness products made with meclizine hydrochloride should not be used by pregnant or nursing mothers unless directed by their health care provider.
Are motion sickness tablets safe for children?
Meclizine hydrochloride can provide long-lasting motion sickness relief. Although motion sickness products made with meclizine hydrochloride are considered safe for most adults, they may not be appropriate for young children. Product manufacturers generally advise against giving meclizine hydrochloride to children younger than 12 unless directed by their physician.
While helpful for travel-related symptoms, meclizine hydrochloride is a central nervous system depressant. If you have questions or concerns about frequent symptoms, alternative treatments, or potential side effects, please consult your healthcare provider, or speak with your local pharmacist at CVS Pharmacy for guidance, questions or concerns.