Showing 1-20 of
32 products
Pregnancy & Fertility Tests
CVS Health Early Result Pregnancy Test, 3 CT
CVS Health
Limit 4 per order
CVS Health One Step Pregnancy Tests 2-Pack
CVS Health
Limit 6 per order
CVS Health Early Results Pregnancy Test, 2 CT
CVS Health
CVS Health Early Result Pregnancy Test, 1 CT
CVS Health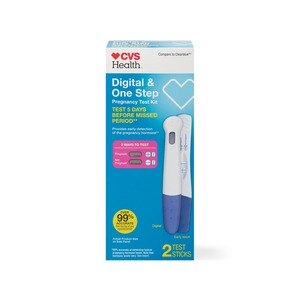 CVS Health Digital & Analog Pregnancy Test
CVS Health
CVS Health One Step Pregnancy Test, 5 CT
CVS Health
CVS Health Digital + Early Result Pregnancy Test Kit, 2CT
CVS Health
Limit 4 per order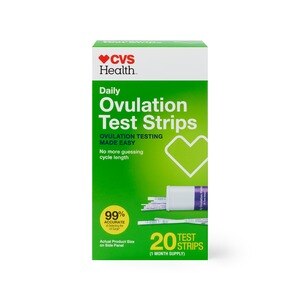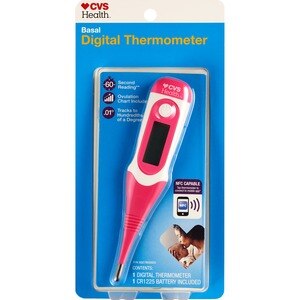 Free shipping with $35+ orders
Limit 2 per order
CVS Health One Step Pregnancy Tests 3-Pack
CVS Health
Limit 4 per order
Prices may vary from online to in store.
At Home Pregnancy Test
The possibility of a pregnancy can be both exciting and scary. But the process of selecting a pregnancy test shouldn't be a stressful experience! We are here to help walk you through the process of choosing the right pregnancy test for you.
When to Take a Pregnancy Test
First of all, let's make sure you actually need to take a pregnancy test right now. If you've had sex and missed your period, it is a good idea to take a test because pregnancy is one of the reasons for a missed period. However, if you are trying for a baby and excited to test at the earliest opportunity, you should know that when you take that test matters. MinuteClinic also offers pregnancy tests near you if you would prefer in person treatment.
How Soon Can You Take a Pregnancy Test?
If you take a pregnancy test earlier than 12 – 14 days past ovulation, you could get a false positive, so you should avoid taking one too soon. Keep in mind that sometimes women can also get a false negative result because in the very early stages of pregnancy, not all women produce enough of the pregnancy-indicating hormone hCG for their at home pregnancy test to detect. It is a good idea to test again two days later to be sure. You can also make an appointment with your doctor to confirm the results.
What Is The Best Home Pregnancy Test?
If you have already reached the first day of your missed period, then it does not matter which pregnancy test you choose. Most of today's home pregnancy tests are reliable and the brand you select won't make a significant difference. However, if you are testing before your missed period, you will want to choose a very sensitive test. A sensitive test can detect lower levels of the hormone hCG, which indicates pregnancy. First Response Early Results was rated by independent studies as having an hCG threshold of 6.3 mIU/ml, making it a good choice if you are testing before your missed period.
Best Pregnancy Test
In addition to sensitivity, there are a few additional factors to consider when deciding which home pregnancy test is best for you. If ease of use is important to you, you may prefer to use a test that allows you to collect your urine in a cup and dip the stick in, rather than testing mid-stream. You may also want to consider price point. If you are trying for a baby and plan to take frequent pregnancy tests leading up to your suspected missed period, you may want to choose cheaper brands and purchase in bulk. However, if you are only going to be taking a few tests to see if you are pregnant after noticing a missed period, price may be less of a concern. Finally, a big factor to consider is how the results are reported. If you prefer absolute clarity, look for a digital pregnancy test that displays a "yes" or "no" result – this way, there is no room for misinterpretation. The other option is traditional line tests, which some women prefer, while others find them distressingly difficult to interpret. If you are nervous, a digital pregnancy test is probably a better choice and may save you some unnecessary stress!
Whichever test you choose and whatever your results may be, it is always wise to confirm with your doctor, especially if you are worried or upset. Also remember that there are resources available to help you cope with a pregnancy or lack of one. Talk to your health care provider; he or she can help you get information and support.
Fertility Tests
In addition to pregnancy tests, CVS also offers a selection of fertility tests. ovulation tests can help you pinpoint your window of ovulation to maximize your chances of conception. These tests work similarly to pregnancy tests; you can choose to hold the test tip in the stream of your urine, or collect your urine in a cup and dip the stick into it. It is important to know that while ovulation tests help you predict when you will be ovulating, they are not approved for contraceptive use. These products are intended for diagnostic use only. In addition to ovulation tests, CVS also offers ovarian reserve tests for women 18 and over, which are designed to help you determine your egg quantity.
Related Searches
condoms, emergency contraceptives, female contraceptives, latex free condoms, desensitizing lube, female moisturizers