1-Day Acuvue Moist Multifocal | 90 pack
$88.79
20% off lenses
Regular price $110.99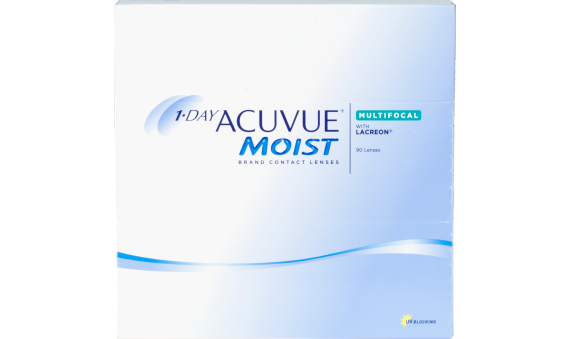 Details
Lens type: Daily disposable multifocal soft contact lenses
Package details: 90 contact lenses in buffered saline with povidone
Material and % of content: etafilcon A
Water % of content: 0.58
Manufacturer: Johnson & Johnson
Description
Complete Vision Correction
If you have presbyopia, you have difficulty seeing objects up close as well as far away. The problem occurs due to changes of the lens of your eye that occur with age. When wearing conventional contacts, you may struggle to read small print or develop symptoms of eye fatigue during close-up work. 1-Day Acuvue Moist Multifocal can address this problem. These contact lenses provide complete vision correction when viewing close, mid-range, and distant objects. The lenses are the only brand on the market that is engineered to adjust to differences in pupil size to give you the clearest possible vision no matter what you're looking at.
Relief From Dry Eyes and Irritation
Individuals who require multifocal contacts for presbyopia may be at an increased risk for dryness and irritation when wearing contacts due to their age. Fortunately, 1-Day Acuvue Moist Multifocal lenses feature innovative Dual Action Technology to reduce redness, stinging, tiredness, and other unpleasant symptoms. This technology works by creating a seal that holds moisture in the lens while acting as a shield against irritants. In addition, 1-Day Acuvue Moist Multifocal contacts feature LACREON, an ingredient that is similar to substances found in natural tears. LACREON acts as a wetting agent to keep your eyes feeling moist throughout the day.
One-Day Benefits
With 1-Day Acuvue Moist Multifocal lenses, contact care is simple. These lenses are worn for just one day before replacement. You won't have to store them overnight in a case or worry about using cleaning products to maintain the lenses.