1-Day Acuvue Moist With Lacreon | 90 pack
$66.39
20% off lenses
Regular price $82.99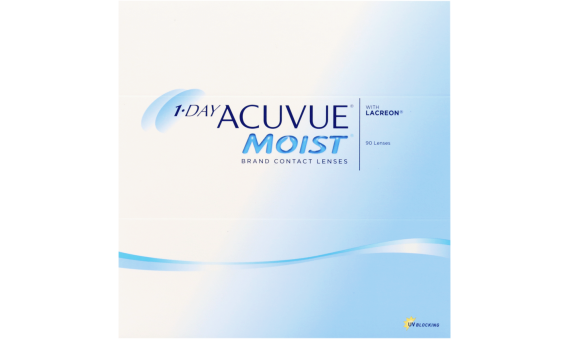 Details
Lens type: Daily disposable soft contact lenses
Package details: 90 contact lenses in buffered saline with povidone
Material and % of content: 42% etafilcon A
Water % of content: 0.58
Manufacturer: Johnson & Johnson
Description
Ample Protection for Your Eyes
Ultraviolet (UV) energy doesn't just pose risks for your skin, it can also negatively affect your eyes. In the short term, UV exposure can cause irritation, and over time, damage caused by UV can impact your vision. 1-Day Acuvue Moist contact lenses can lower the likelihood of short-term irritation and long-term UV damage by filtering out some harmful UV rays. Studies have found that 1-Day Acuvue Moist provides one of the highest levels of UV protection among all disposable contacts. You should still wear sunglasses for extra protection when you will be outdoors for long periods of time.
Comfort for Dry Eyes
Dryness is one of the most common side effects of conventional contact lens wear, and many people find that as the day wears on, their eyes become increasingly dry and uncomfortable. To address this problem, 1-Day Acuvue Moist lenses feature LACREON technology. With this technology, an ingredient similar to tears is embedded in the surface of the lens, where it acts as a cushion. The presence of LACREON makes 1-Day Acuvue Moist lenses comfortable for all-day wear and reduces friction when you blink.
One-Day Convenience
If you're looking for a simple solution for vision correction, 1-Day Acuvue Moist contact lenses are an ideal solution. You simply start each day with a fresh set of lenses and dispose of the contacts at night. There is no need to worry about cleaning or storage. In this pack, you'll find 90 lenses, roughly a three-month supply.