Biofinity | 6 pack
$41.99
(per box after discount)
Reg:

$55.99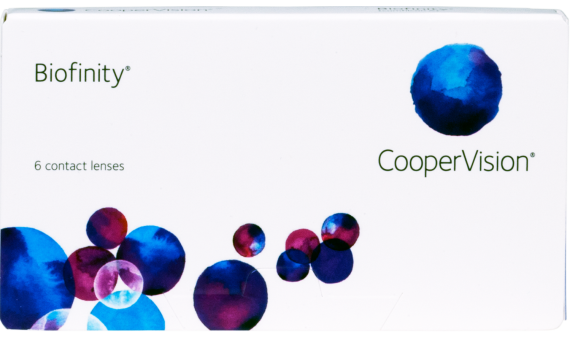 Details
Lens type: Monthly disposable soft contact lenses
Package details: 6 lenses immersed in buffered 0.83% saline
Material and % of content: 52% comfilcon A
Water % of content: 0.48
Manufacturer: CooperVision
Description
Extended Wear Convenience
For those who are always on the go, daily contact lens care and storage can be difficult. Fortunately, there are contact lenses designed to meet your needs and fit into your hectic lifestyle. Biofinity contact lenses are an excellent choice due to their extended wear design. You can insert Biofinity lenses and then forget about them through up to six nights and seven days of wear, keeping them in even while you sleep.
Aquaform for Dry Eyes Symptoms
With Biofinity contact lenses, you reap the benefits of exclusive Aquaform technology that combats symptoms of dry eyes like redness, stinging, blurred vision, and fatigue. The lenses are crafted out of a silicone hydrogel material composed of long chains with more space for oxygen to pass through. In addition, this innovative construction results in charged zones along the surface of the lens. Throughout the day, these charged areas bind water molecules in place to lock in hydration. As a result, the lenses are less likely to cause symptoms of dry eyes and reduce the need for rewetting drops. Aquaform technology also cuts down on the formation of protein deposits to keep your vision clear and protect your eye health.
Simple Replacement Schedule
Biofinity extended wear contact lenses are monthly disposables. This means you will replace your lenses after one month of wear. Many people find monthly replacement schedules to be easier to follow than biweekly options. In one box, you will find a total of six Biofinity lenses for a six-month supply.
Biofinity® contact lenses are perfect for both nearsighted and farsighted vision correction. These lenses feature Aquaform® Technology which provides additional moisture to the lens, while also allowing more oxygen to eye in a convenient monthly disposable lens. This provides a healthier lens-wearing experience. The unique design focuses light better for higher resolution and depth of focus.
See all Biofinity products.
Shop by Lens Type