Pediatric Walkers & Rollators
Showing 1-1 of
1 products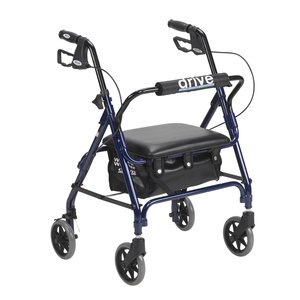 Drive Medical Junior Rollator Rolling Walker with Padded Seat, Blue
Drive Medical
Free shipping with $35+ orders
Prices may vary from online to in store.
Pediatric Rollator
A pediatric rollator helps children improve their daily mobility and walk with additional support. These rollators are specially made for people with a smaller stature from toddlers to teenagers and can help children maintain their active lifestyle. When you look for a pediatric rollator, make sure it has adjustable handles that can accommodate your size. As you grow, you may need to make the handles taller so that you can continue to use your pediatric rollator. Choose a rollator that has durable, soft-grip tires that make it easy to get around on both indoor and outdoor terrain. A zippered pouch is another handy accessory that will make it easy for you to carry your school supplies, toys, and other items with you hands-free. You can also add a basket to your pediatric rollator to hold more items. Parents should choose folding pediatric rollators that can easily fit into the trunk of a car for easy transport.
Rollator for Child
There may be many reasons why you'd need a rollator for a child. If your child has recently undergone surgery or is dealing with an injury, a rollator or walker can help them get around. Other children with developmental disabilities might need the help of a rollator. Consider a rollator for your child if they are dealing with mobility issues or need extra support while walking or standing. Some children may have improper gait or spinal issues and need additional support to walk safely. Other issues may include when a child is recovering from surgery and needs help to maintain their balance as they recover. Always measure the dimensions of the rollator carefully to ensure that it will work for your child's height. Most pediatric rollators are adjustable so you can change the height to accommodate your child's individual size. A rollator with a seat and backrest makes it easy for your child to sit down securely.
Older children can also benefit from a rollator. If your pre-teen or teenager is currently recovering from an injury or they have a disability that makes it difficult to put their full weight on the legs or feet, a rollator can help. Look for a rollator for your child that will enhance their movement and support their body weight. Walking as much as possible, even with the help of a rollator, can improve muscle strength and dexterity while reducing recovery time. Using a pediatric rollator can help your child maintain their balance and their confidence so that they can live a full, healthy life.
Related Searches
Totes & Bags, Chairs & Seating, Patient Room Accessories, Scooter Accessories, Scooters