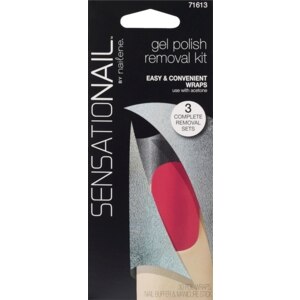 SensatioNail Gel Polish Removal Kit
3 complete removal sets. 30 foil wraps; nail buffer & manicure stick. Easy & convenient wraps. Use with acetone. Gel Polish Removal Kit contains: 3 sets of 10 foil wraps - use with acetone; 4-way nail buffer; manicure stick. Contents: 30 foil wraps; 1 4-way nail buffer; 1 manicure stick; 1 instruction sheet. SensatioNail Gel Polish Removal Kit is a unique, handy way to remove gel polish without all the hassle. Simply buff and wrap! SensatioNail foil wraps keep the natural heat around each individual nail, making it easy for the gel polish to lift off nails. After 15 minutes, simply push gel polish away with the manicure stick to reveal clean, healthy nails every time. Finally, a unique, at-home method that is absolutely sensational! Must use with acetone. 3 easy steps: buff; wrap; remove. For customer support, FAQ's, application tips and video demonstrations, visit SensatioNailGel.com. Foil wraps - China, 4-way buffer - China, manicure stick - China, instruction sheet - China.
Formulation:

Gel
For best results, use this kit with the SensatioNail gel polish removal tool (sold separately). See detailed instructions.
Follow instructions for use. Keep out of reach of children.