Showing 1-14 of
14 products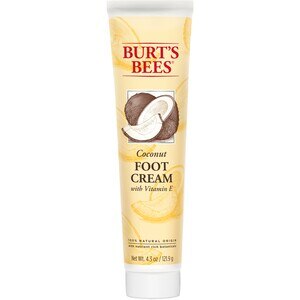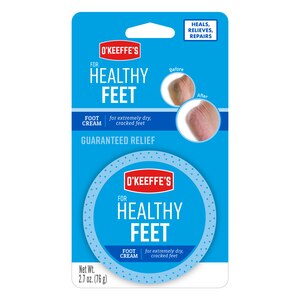 O'Keeffe's For Healthy Feet Foot Cream, 2.7 OZ
O'Keeffe's
Limit 6 per order
CVS Health Intense Relief Foot Cream, 2.7 OZ
CVS Health
Limit 6 per order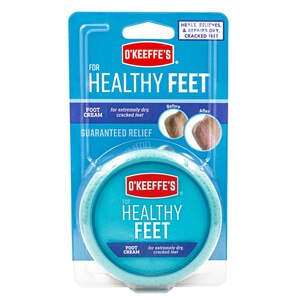 O'Keeffe's Healthy Feet Foot Cream, 2.7 OZ Jar
O'Keeffe's
Burt's Bees 100% Natural Lemon Butter Cuticle Cream Tin, 0.6 OZ
Burt's Bees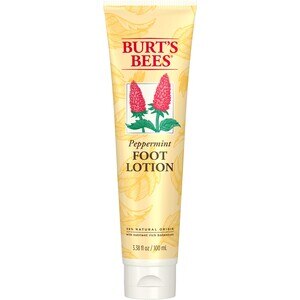 Burt's Bees Peppermint Foot Lotion Tube, 3.38 OZ
Burt's Bees
Limit 6 per order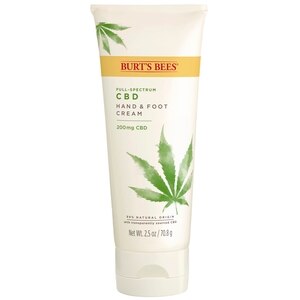 Burt's Bees Full-Spectrum CBD Hand and Foot Cream Infused with 200mg Transparently Sourced CBD Oil, 2.5 OZ - State Restrictions Apply
Burt's Bees
Prices may vary from online to in store.
Benefits of Using a Foot Cream
When wearing shoes or any other type of footwear, you are essentially reducing air flow, moisture, and sunlight to your feet. So it is important to care for and pamper your feet once in a while, whether it's with a relaxing massage, salt bath, or applying a foot cream. Moisturizing your feet regularly with a foot cream may help protect them from dryness, cracks, and calluses. Dry or cracked feet or heels, when left untreated, may become uncomfortable and painful. The best lotion for dry feet is a thick foot cream so that I will penetrate through the cracked skin and nourish.
How Does A Foot Cream Work?
Foot creams are designed to moisturize feet deeply by creating a barrier to prevent moisture loss. By incorporating foot cream into your daily skin care routine, you are helping your skin retain moisture. Regular foot cream use may reduce the appearance of damaged or cracked skin on your feet.
How To Use A Foot Cream?
To get the most out of your foot cream, start by soaking your feet in a warm bath. Once soaked, scrub your feet with a pumice stone to remove any dead skin cells, then apply your favorite foot cream while your feet are still slightly damp. This will ensure that your skin absorbs the most minerals and nutrients from the cream and may help your feet retain moisture longer.
What Causes Cracked Heels?
Cracked heels occur when dry or thickened skin forms around the outer rim of your heel. As you walk, the skin around your heels expands, which may cause calluses to crack. Using a foot cream at night before sleeping may help moisturize the cracked heels and prevent further damage to the skin.
What Is the Best Cream for Foot Pain?
Foot pain can range from aching muscles and soreness to dry, cracked skin. The best cream for foot pain should contain ingredients designed to lessen the pain and/or to help keep dry and cracked skin moisturized and hydrated. One of the best cream products for foot pain is Magnilife DB Pain Relieving Foot Cream. Containing anti-inch ingredients, this product can calm and restore your skin so that it feels smooth and comfortable. CVS Health Intense Relief Foot Cream features a non-greasy formula that helps your skin retain moisture levels to soothe and calm dry, cracked skin. Always look for products that are non-greasy and provide your feet with relief in just a few days or sooner.
What Is the Best Foot Cream?
The best foot cream will relieve your dry, cracked skin and restore its natural moisture levels. O'Keefe's For Healthy Feet Foot Cream is a concentrated moisturizer that will help severely dry feet. If you are dealing with cracked or split skin, this product delivers instant hydration that you can feel in just days. Look for products that are safe and effective for those with diabetes if this applies to you. Always apply the product to your feet as directed to ensure the best results. Another excellent product is Gold Bond Therapeutic Foot Cream Triple Action. This foot cream smooths, softens and cools dry skin, and contains nourishing ingredients including vitamins E, C and A. The right foot cream can help to relieve the pain and irritation of dry, itchy and cracked skin.
Foot Cream Ingredients
Before buying a foot cream, consider the different ingredients commonly found on the market. Ingredients found in foot creams may vary from product to product, but common ingredients in foot creams include urea, shea butter, jojoba oil, and macadamia oils. Some formulas may also use high concentrations of humectants like glycerin and allantoin to moisturize and combat the dryness that causes cracked heels.
Related Searches
hand lotion, foot mask, athlete's foot treatment, foot scrub, nail polish, toenail clippers