False eyelashes can dramatically enhance your appearance, giving you the illusion of a voluminous, long lash line. When you're wearing false lashes, you don't want the worry of whether those faux eyelashes will stay in place. Choosing the right eyelash glue allows you to focus on your day or night without giving your lashes a second thought. CVS offers a diverse assortment of lash glues for purchase online, so you can easily buy the best option for your needs.
Showing 1-9 of
9 products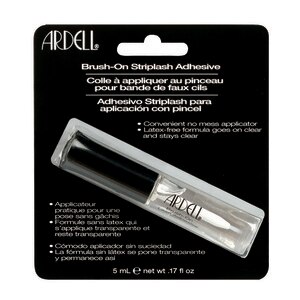 Ardell Brush-On Lash Adhesive
Ardell
Limit 6 per order
Prices may vary from online to in store.
How To Apply Lashes
Today, many false eyelashes that are available on the market are reusable and can be worn multiple times. These types of artificial eyelashes are generally not coated with adhesive by the manufacturer. Instead, you must apply lash glue each time that you wear them. Eyelash glue is designed specifically for holding false eyelashes in place and comes in a variety of types to meet every need.
Strip Eyelash Glue vs. Individual Eyelash Glue
There are two main types of eyelash glue: strip and individual. Strip eyelash glue is intended for false eyelashes that consist of one strip of material with multiple lashes attached. Individual eyelash glue is made to hold false eyelashes that consist of multiple pieces rather than a single strip. Generally, individual eyelash glue is stronger and longer lasting, able to hold lashes in place for more than one day. Most strip eyelash adhesives usually only last for 24 hours.
Eyelash Glue Color
Once you have decided whether you prefer strip or individual eyelash glue, color is the next major point of comparison. Eyelash glue comes in white, black and clear formulas. Clear formulas are virtually invisible when they are dry, but they are often costlier than other colors. White eyelash glue is easier to wipe off of skin; however, it can leave spots behind on dark lashes. Black eyelash glue is the opposite. It blends in well with lashes but could create dark smudges on your skin.
Specialty Eyelash Glue
Depending on your needs, you may want to shop for eyelash adhesive with special features. Some formulas are made specifically for sensitive skin and are free of ingredients that are likely to cause irritation. Aloe vera and other calming ingredients are added to some eyelash glues to soothe skin around the eyes. If you are allergic to latex, be sure to check the product descriptions for the lash adhesives to ensure that the product you purchase is free of the ingredient.
Related Searches
elf mini eyelash curler, eyelash applicator, rapidlash, duo lash glue