Showing 1-20 of
57 products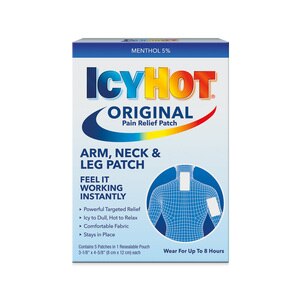 Icy Hot Pain Relieving Patches, Arm, Neck & Leg Size Small, 5 CT
Icy Hot
Limit 6 per order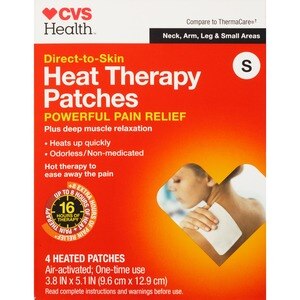 CVS Health Heat Therapy Patches
CVS Health
CarePass
™
price
$6.39 – $10.39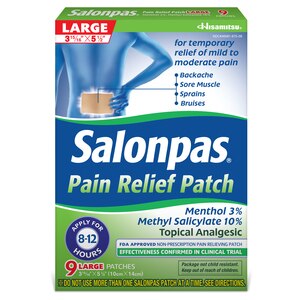 Salonpas Pain Relief Patch, Large 9 CT
Salonpas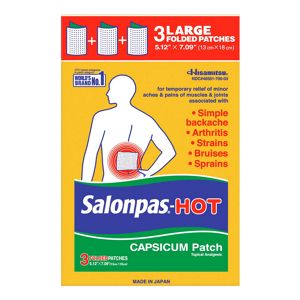 Salonpas Hot Capsicum, Topical Analgesic Patches, 3 CT
Salonpas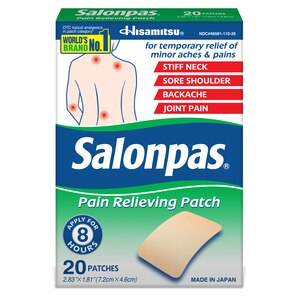 Salonpas Pain Relieving Patch, 8-Hour Pain Relief, 20 CT
Salonpas
Free shipping with $35+ orders
Salonpas Pain Relief Patch, 12-Hour Mild to Moderate Pain Relief, 20 CT
Salonpas
Biofreeze Pain Relieving Patch, 5 CT
Biofreeze
Aspercreme Odor Free Max Strength Lidocaine Pain Relief Patch for Back Pain, 5 CT
Aspercreme
Limit 6 per order
CVS Health Maximum Strength Pain Relief Patch,3 5/16" x 5 1/2" (10 cm x 14 cm), 5 CT
CVS Health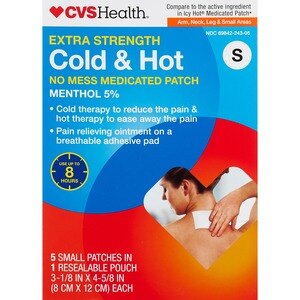 CVS Health Extra Strength Cold & Hot Medicated Patches 5CT, Small
CVS Health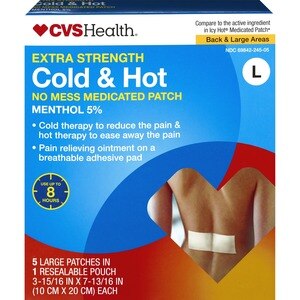 CVS Health Extra Strength Cold & Hot Medicated Patches 5CT, Large
CVS Health
Limit 6 per order
Prices may vary from online to in store.
How do pain relief patches work?
Ouch! It is never fun to be in pain, and finding a reprieve from it is the sole purpose of pain relief patches. Releasing their medication through your skin and into your bloodstream can be an effective tool in mitigating different types of pain that you may be in. Pain relief patches are a great alternative to pills, creams, or injections, as they transmit medication quickly through your skin without taking the time normally associated with digestion; this also removes stomach irritation that goes along with swallowing some medications. You can buy pain patches OTC or through the pharmacy. There are 3 main types of pain relief medications in pain patches:
• Anti-inflammatory properties similar to Ibuprofen
• Topical analgesics such as Lidocaine to numb an area
• Hot or cold temperature transference
What is the most effective pain relief patch?
The best pain relief patch depends on the type of pain you wish to relieve. If you have overworked a muscle and seek heat or a cooling sensation to calm the area, any of the hot or cold therapy patches available at CVS will do the trick nicely. Repetitive motions may need temporary numbing, so a patch necessary to the size in need of relief will benefit from one containing Lidocaine, which stops nerves from sending pain signals at surface level. Talk to your healthcare provider to make sure that the pain relief patch you're seeking best fits your needs.
Can you use pain relief patches while pregnant?
Some pain relief patches have methyl salicylate as their active ingredient which is not recommended for use during pregnancy. Hot and cold therapy patches are most often not medicated and can often be used safely during pregnancy.
Are pain relief patches safe?
When used correctly, pain relief patches can be an effective tool on your path to being pain-free. For temporary pain relief, and when applied to clean, unbroken skin, a pain relief patch or hot and cold therapy pad can soothe aches and pains. For persistent issues or pre-existing conditions, it is always best to discuss pain management with your doctor.
Do heat patches help back pain?
One of the best uses for heat patches is to provide relief from back pain and backaches. The warmth from hot pads or cooling sensations from the icy cold patches can seep deep into your muscles to ease tired muscles in your back and across body. Some people use pain patches to ease and soothe neck pain, but speaking with a doctor is always recommended first.