Showing 1-3 of
3 products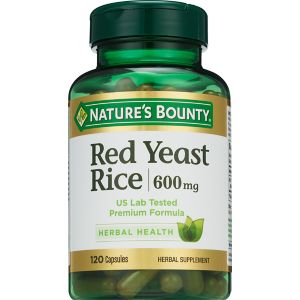 Nature's Bounty Red Yeast Rice Capsules 600mg
Nature's Bounty
Buy 1, Get 1 Free - Add 2 or more to qualify!
CVS Health Red Yeast Rice Capsules 600mg
CVS Health
Buy 1, Get 1 Free - Add 2 or more to qualify!
Sundown Naturals Red Yeast Rice 1200 mg, 240CT
Sundown Naturals
Buy 1, Get 1 Free - Add 2 or more to qualify!
Prices may vary from online to in store.
Increasingly, medical professionals are recommending red yeast rice to patients as an alternative or complementary remedy for a number of conditions. If you're looking for a red yeast rice supplement to add to your diet, you can easily find the perfect product for your needs at CVS. In this product selection, you'll find an assortment of red yeast rice supplements in a variety of strengths.
What Is Red Yeast Rice?
Red yeast rice is a substance that forms when red yeast grows on non-glutinous rice and the grain is subsequently fermented. In China, red yeast rice is used as a cooking ingredient and as an herbal remedy. Written descriptions of red yeast rice therapies can be traced as far back as 800AD. Today, many people take supplements that contain red yeast rice to promote health and well-being. Most often, supplements come in capsule form.
Red Yeast Rice Benefits
Scientists believe that a substance in red yeast rice called monacolin K may interfere with the body's ability to produce cholesterol in the liver. In this way, red yeast rice may work similarly to cholesterol-lowering drugs called statins. Studies have found that red yeast rice supplements may be beneficial for people with high cholesterol who are unable to take statin drugs due to side effects; however, the research shows that supplements must contain high levels of monacolin K to produce positive results.
Red Yeast Rice Supplement
Red yeast rice has a number of less common uses as well. In traditional Chinese medicine, the herb is sometimes taken to promote heart health and to decrease the risk of heart attack. Some people also believe that red yeast rice can lower triglyceride levels. At this time, there is not enough evidence to prove that red yeast rice can provide these benefits for everyone who uses a supplement.
Red Yeast Rice Side Effects
Before taking a red yeast rice supplement, be sure to talk to your health care provider. Although red yeast rice is a natural substance, it can still pose a risk for side effects, drug interactions and allergic reactions. A medical professional can help you decide whether or not red yeast rice is right for you and give you advice about how much to take on a daily basis. Be sure to follow the directions for use provided by the supplement manufacturer unless otherwise directed by a medical professional.
Related Searches
red yeast rice 600 mg
,
nature's bounty red yeast rice
,
heart health supplements
,
calcium for heart health
,
best supplements for heart health