Showing 1-20 of
115 products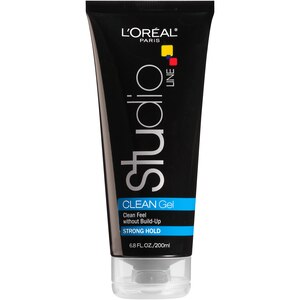 L'Oreal Paris Studio Line Clear Minded Clean Gel, 6.8 OZ
L'Oreal Paris
Limit 6 per order
L'Oreal Paris Studio Line Head Lock Mega Gel, 6.8 OZ
L'Oreal Paris
Limit 6 per order
SheaMoisture Daily Hydration Styling Gel
SheaMoisture
Buy 1, Get 1 50% Off - Add 2 or more to qualify!
Limit 6 per order
Eco Style Olive Oil Styling Gel, 32 OZ
Eco Style
Prices may vary from online to in store.
Pomade vs Gel
Creating your own hairstyle can give you a unique look but keeping your coif in place can sometimes be a real challenge. You can get more control over your hair with help from hair gels and pomades. These styling products make it easier to create the hairstyle you want and keep it that way. Whether you're new to these products or you're looking for a way to get more from your hair care, read on to learn more about these useful hair styling tools.
How To Use Hair Gel
It's important to note that hair gels and pomades are two different products. A gel is a great way to hold your hair in place while giving it that "wet look" that makes it appear fresh. Most hair gel will hold your style in place all day and easily washes out with warm water. Spiky hairstyles look great with a little bit of gel, and it's also a terrific product for people who have thin or fine hair. Using hair gel can add thickness to your hair and make it appear fuller. Be aware that people with thicker hair may end up having their hair weighed down by using too much gel, so apply it sparingly. Wash your hair thoroughly before you apply hair gel, and only add as much as you need. Start small with just a dime-sized amount. You can always work your way up and add more product if you need to. Stay away from hair gels that have alcohol in them since they can dry out your hair and cause flakes to build up.
How To Use Pomade
If you're not a big fan of hair gels, pomades can be a great alternative. Most hair pomades come in either a water-based or an oil-based formula. The water-based hair pomades are water-soluble, so they easily wash out with some clean water. Oil-based hair pomades are a bit greasier and typically include ingredients like beeswax or petroleum. They're also a lot thicker and are a bit more difficult to wash out. However, if you love a slicked-back look, an oil-based pomade is a great choice. Both oil and water-based pomades won't dry out your hair or make it feel stiff and hard. They can make it easy to restyle your hair throughout the day since they make the strands pliable and bendable. Apply pomade to your hair if you love the slicked-back look rather than short spikes. This product is a great option for those who have thicker or curly hair since it can hold your style in place while making it look healthy and adding moisture.
Related Searches
eyebrows, nail tools, hair appliances, travel size soap, best hair regrowth, new hair regrowth