Understanding Medicare options.
Medicare is complicated and plan options may change every year. We can help you simplify the process and understand your options to ensure that you select the plan that is best for you.
Things to consider
Using a preferred pharmacy in your plan's network can offer lower copays on covered prescriptions than a standard pharmacy.
There are 2 ways to get prescription coverage with Medicare: Medicare Part D is standalone additional coverage on top of your Medicare (Parts A and B) and/or Medicare Supplemental plan. Medicare Advantage (Part C) is a combined plan that includes both your medical and prescription coverage.
It's important to confirm the medications you use are covered by the prescription drug plan, also known as being on your plan's formulary.
We offer tools to compare plans online and events where you can speak with a Medicare specialist in person.
Why choose CVS Pharmacy®?
Where you get your medicine matters.® Our experienced pharmacy team and convenient services help make it easier for you to get and take your medications.
How we help with your Rx
Just sign in or create an account to add eligible scripts. We'll let you know when they're ready, at no added cost.
Sign in
Create an account
Find out more about our pharmacy services.
We help you find Medicare savings
Our plan comparison tool and in-store events can help you find the plan that lets you save on prescriptions.*
Find the plan for you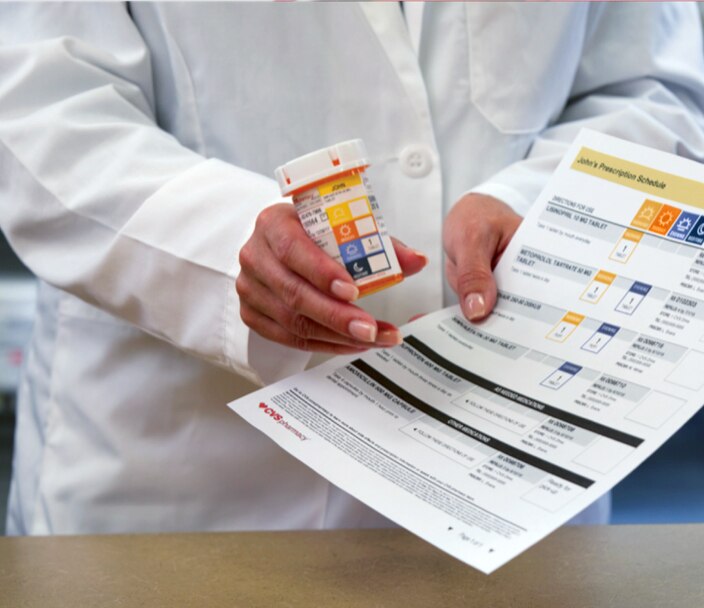 Read article:

Get a personalized prescription schedule.
Read article:

Learn more about immunizations at CVS Pharmacy®
* Footnote one FOR MEDICARE COPAYS: Medicare Part D copays vary based on plan design and $0 copays may not apply to all drugs or be available with all plans or at all pharmacies in a given plan. CVS Pharmacy® is preferred with some Medicare Part D plans. CVS Pharmacy accepts most Medicare Part D plans and does not endorse any particular plan. Your costs and savings may vary depending on your premium, deductible, a plan's cost-sharing obligations for your prescription drugs, any Medicare Part D penalty that may apply and whether you qualify for Extra Help from Medicare with paying your prescription drug costs. Back to footnote one
* Footnote two FOR PLAN FINDER: This plan finder tool is set by default to search for only those plans in which CVS Pharmacy® is an in-network pharmacy. On the quote results page, you may change this by using the filter function on the left side of the page to select and view all available contracted eHealth plans in your service area or filter for other selected in-network pharmacies. Back to footnote two
eHealth Medicare contains information about and provides assistance with Medicare plan options for people who are eligible for Medicare. It is operated by eHealthInsurance Services, Inc., a licensed health insurance agency certified to sell Medicare products that does business as eHealth nationally and as eHealthInsurance Agency in NY and OK. Licensed insurance agents may be compensated on your enrollment in a plan. Agent compensation will not increase your cost. The customer service center is not operated by CVS Pharmacy®. Please note: For a complete list of available plans, please contact 1-800-MEDICARE (TTY users should call 1-877-486-2048), 24 hours a day, 7 days a week or consult Medicare's site
Powered by
* Footnote three NO ADDED COST: Multi-dose packaging is provided without additional fees. Drug costs may change when prescriptions are transferred to a new pharmacy or change from a 90-day prescription to a 30-day prescription. To align prescriptions on a 30-day cycle, 1 or more additional copays may be required by the patient's plan. Not all medications can be included in the multi-dose packs. Please contact your CVS Pharmacy® team for additional information. Back to footnote three
* Footnote four FOR MULTI-DOSE PACKAGING DELIVERY: Some restrictions may apply. Back to footnote four
* Footnote five FOR AUTOMATIC REFILLS: Not all prescriptions are eligible and you may opt out of this service at any time. Additional restrictions may apply. Speak to your pharmacist for details. Back to footnote five
* Footnote six FOR PHARMACY & HEALTH REWARDS: You must enroll in both the ExtraCare® and ExtraCare Pharmacy & Health Rewards® program to earn Pharmacy & Health ExtraBucks Rewards®. An individual can earn up to $50 in Pharmacy & Health ExtraBucks Rewards in a calendar year in connection with the program. See program rules for details at CVS.com/ExtraCare-CVS/RxRewards or ask a CVS pharmacist for a copy. Rewards cannot be earned on any prescriptions purchased in AR, NJ or NY; any prescriptions transferred to a CVS Pharmacy® in AL, MS or OR; any controlled substance prescriptions purchased in HI or LA; or where otherwise prohibited by law. CVS Pharmacy reserves the right to modify or terminate the ExtraCare Pharmacy & Health Rewards program. The ExtraCare Pharmacy & Health Rewards are not dependent on or tied to your enrollment in any Medicare Part D plan. Back to footnote six
* Footnote seven FOR COST SAVINGS: Your costs and savings may vary depending on your premium, deductible, a Plan's cost-sharing obligations for your prescription drugs, any Medicare Part D penalty that may apply and whether you qualify for Extra Help from Medicare with paying your prescription drug costs. Prior to transferring your prescription, you should check with your Plan to determine how it will affect your prescription drug costs. Back to footnote seven