Refill prescriptions
Refill in a snap.
Order the prescription refills you need anytime, anywhere with one of the quick, convenient options below.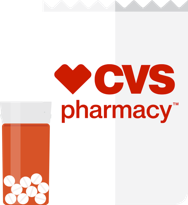 Choose ReadyFill®

Rather not order at all? Enroll eligible scripts in ReadyFill.* We'll refill them automatically and let you know when they're ready.
Hint: Choose ScriptSync™ to have multiple eligible prescriptions ready for same-day pickup.*
Scan to refill
If you have our app, you can scan your prescription barcode using your smartphone camera and confirm a few details to complete your order.
Hint: You can use our app to pick up and pay for prescriptions too.
Text to refill®

Text "REFILL" to CVS-TXT(287-898) when it's time to refill. What could be easier?
Hint: Sign up for order ready text alerts to know when it's time to pick up your scripts, get health alerts and more.
Refill as a guest

You're always welcome to refill as a guest. No account is required. You just need your store and prescription numbers.
Hint: This is fast and easy now but won't save you time in the long run. Add your prescriptions to a CVS.com account to refill more easily, pick up more quickly and have 24/7 access to your scripts.
*Not all prescriptions are eligible. See your pharmacist.