Showing 1-20 of
165 products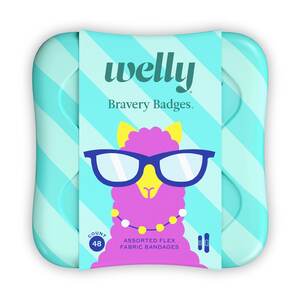 Welly Kids Bravery Badges Assorted Unusual Pets Flex Fabric Bandages with Llamas, Narwhals & Sloths- 48 CT
Welly
Welly Kids Bravery Badges Assorted Monster Flex Fabric Bandages - 48 CT
Welly
Welly Kids Bravery Badges Assorted Rainbow and Unicorn Flex Fabric Bandages - 48 CT
Welly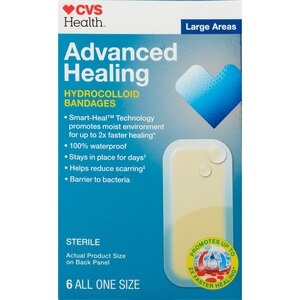 CVS Health Advanced Healing Premium Bandages, Assorted Sizes
CVS Health
CVS Health Heavy Duty Fabric Anti-Bacterial Bandages
CVS Health
CarePass
™
price
$3.43 – $6.95
CVS Health Flexible Fabric Anti-Bacterial Bandages, Assorted Sizes
CVS Health
CarePass
™
price
$3.43 – $7.19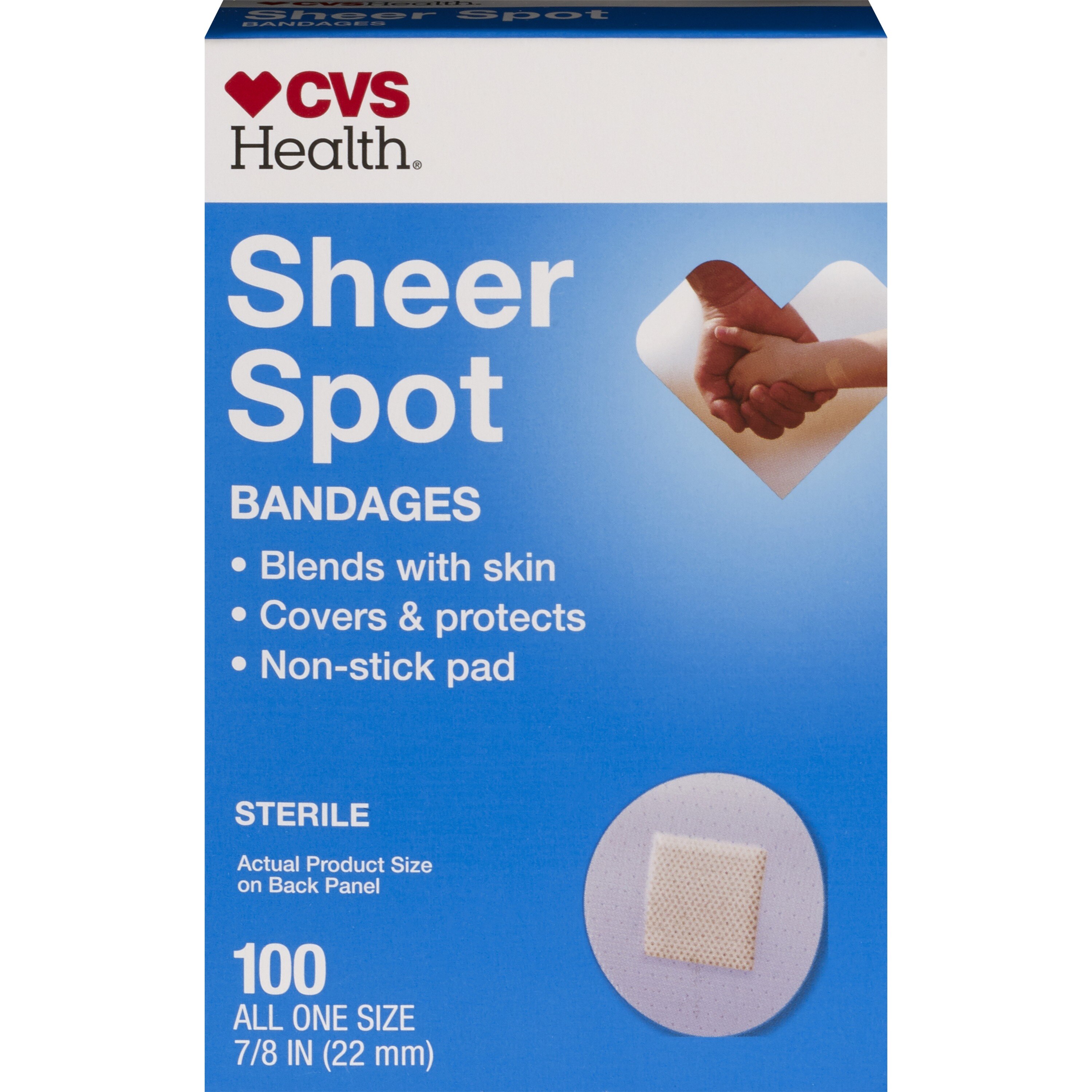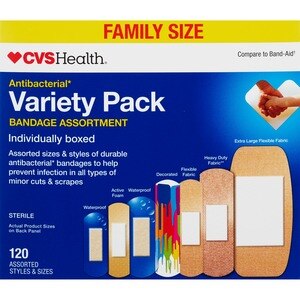 CVS Health Variety Pack Bandage Assortment, 120 CT
CVS Health
Limit 6 per order
CVS Health Heavy Duty Waterproof Anti-Bacterial Bandages
CVS Health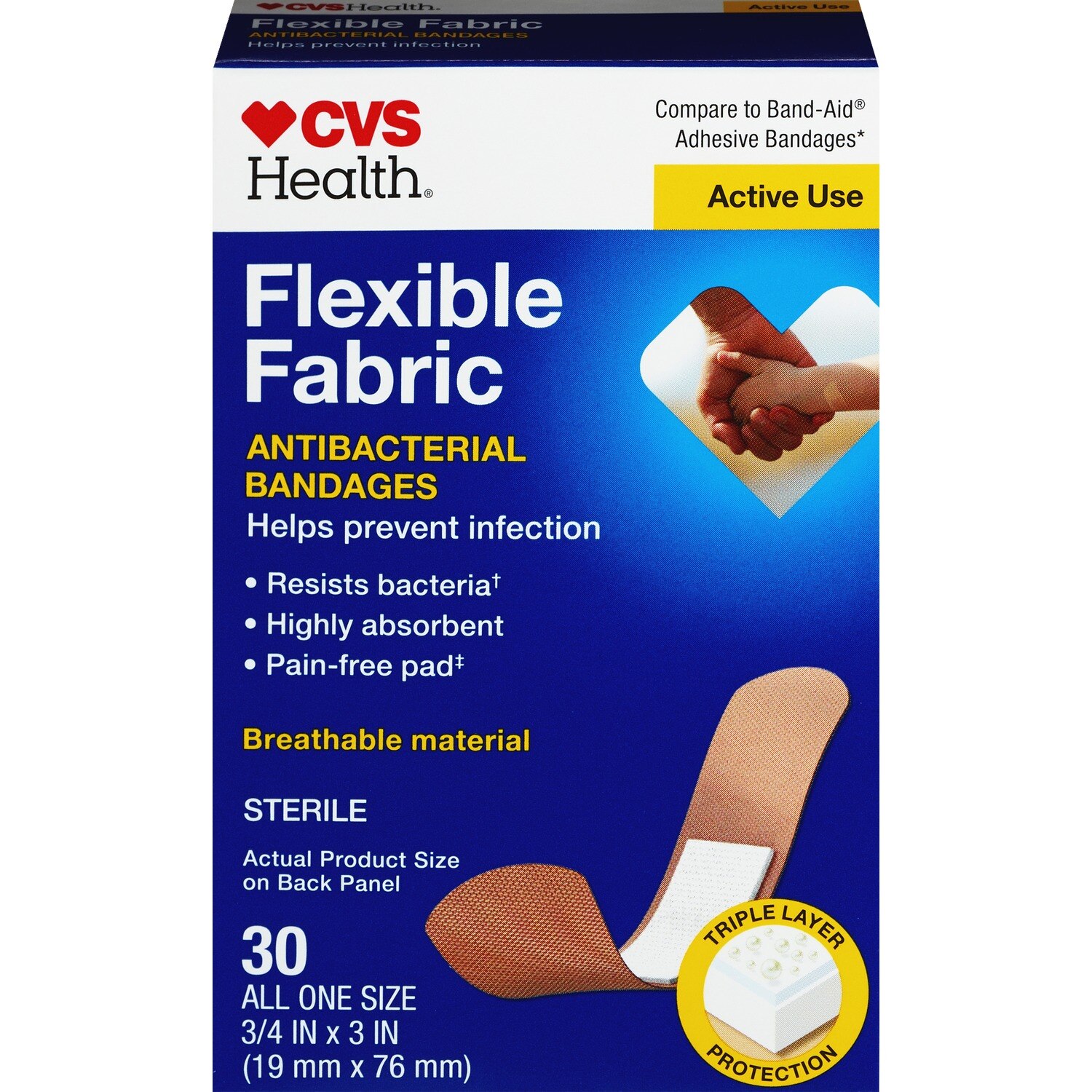 CVS Health Flexible Fabric Anti-Bacterial Bandages, One Size
CVS Health
CarePass
™
price
$3.43 – $7.19
Prices may vary from online to in store.
Bandages
Bandages are an essential first aid item to have on hand. Bandages, sometimes referred to as "bandaids" or adhesive bandages, are designed to protect minor cuts and scrapes by keeping them clean. Small wounds can be treated with at home methods, but if you are concerned, you should not hesitate to call your doctor or go to your local clinic. If there is a lot of pain, if the wound is large, or if the bleeding won't stop even after gentle pressure has been applied for a significant period of time, call 911.
Types of Bandages
There are many types of bandages. You should select the appropriate type based on your needs. It can be helpful to keep a variety of bandages at home, so that you always have the right kind of adhesive bandage on hand. Many people choose to purchase a variety pack band aid box for this reason, but you can also pick and choose to create your own assortment.
Waterproof Bandages
If you are going swimming or will need to expose the wounded area to water frequently, such as in the case of a cut on your hand, you'll want to look for waterproof bandages. Waterproof bandages are designed to be extra sticky, so they won't slip off in water. Waterproof bandages also create a heavy duty seal to protect your wound from exposure to water, dirt, and germs. Because they are extra sticky, however, you should not use them on delicate skin, as removal could be painful or harmful to the area.
Liquid Bandages
For cuts on your hands or blisters, you may like to try a liquid bandage. A liquid bandages is not an adhesive. Instead, it is a clear liquid that forms a barrier directly on your skin to seal dirt and irritants out of your cut or blister. Liquid bandages are applied directly to the skin using either a paintbrush-like applicator, or with a spray. Ideal for small cuts, liquid bandages are also great for blisters – many people find that applying a thin layer to areas of the skin that you know are prone to developing blisters before starting out on that long run or cello recital can be very helpful.
Hydrocolloid Bandages
Hydrocolloid bandages are helpful for many wounds, but they also benefit blisters and acne spots. Hydrocolloid dressings look similar to adhesive bandages, but have a soft, active surface that is capable of absorbing liquid from wounds, acne, and blisters. As it absorbs these liquids, the hydrocolloid bandage swells. This cushioned barrier is especially helpful for blisters, which can be painful when they touch or rub up against external items such as shoes or clothing. In fact, hydrocolloid dressings are sometimes called blister band aids for this very reason. In addition, the ability of hydrocolloid dressings to actively draw out fluids is also helpful for treating acne, as it pulls the pus and oil out without causing damage to the skin. Hydrocolloid bandages can also be left on longer than regular bandages so that the area is not disturbed, which may also help to support healing.
Latex Free Bandages
Finally, it is important to remember that if you are allergic to latex, you should always be sure to purchase latex free bandages. Allergen information should be clearly printed on the box. Latex free bandages come in many sizes and styles, so you can still put together an assortment that works for your needs.
From small round band aids to large bandages and everything in between, CVS has you covered with a wide assortment of these first aid essentials. Stock up on a variety of medical bandages today to be prepared for whatever tomorrow may bring!
Related Searches
band-aid, butterfly bandages, medical tape, first aid gel, first aid dressings, antiseptic ointment