Showing 1-20 of
895 products
Welly Kids Bravery Badges Assorted Monster Flex Fabric Bandages - 48 CT
Welly
Welly Kids Bravery Badges Assorted Rainbow and Unicorn Flex Fabric Bandages - 48 CT
Welly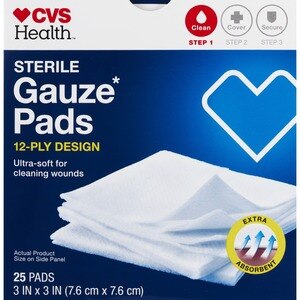 CVS Health Sterile Gauze Pads
CVS Health
CarePass
™
price
$3.67
to
$9.59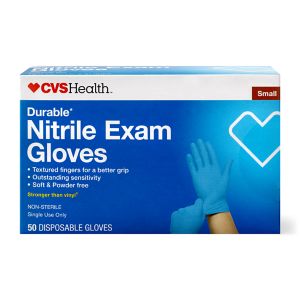 CVS Health Durable Nitrile Exam Gloves, 50CT
CVS Health
CVS Original Strength Antibiotic Ointment
CVS Health
CarePass
™
price
$3.35
to
$10.79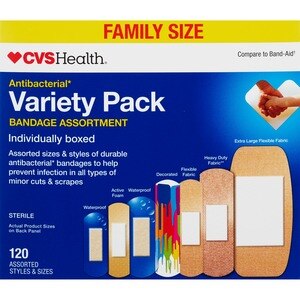 CVS Health Variety Pack Bandage Assortment, 120 CT
CVS Health
CVS Health Medicated Wipes, 48CT
CVS Health
Buy 1, Get 1 50% Off - Add 2 or more to qualify!
Limit 6 per order
CVS Health Durable Nitrile Exam Gloves Medium, 50CT
CVS Health
Free shipping with $35+ orders
Limit 2 per order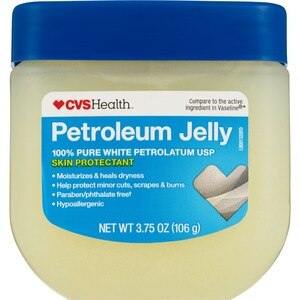 CVS Health Petroleum Jelly
CVS Health
CarePass
™
price
$2.79
to
$5.03
CVS Health Heavy Duty Fabric Anti-Bacterial Bandages
CVS Health
CarePass
™
price
$3.43
to
$6.95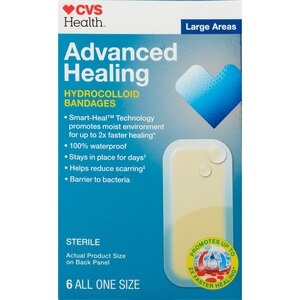 CVS Health Advanced Healing Premium Bandages, Assorted Sizes
CVS Health
CarePass
™
price
$4.79
to
$5.03
Prices may vary from online to in store.
From a skinned knee to a serious cut in the kitchen, it's important to have the proper first aid and wound care products readily available. What's just as important is that you know how to use your first aid kit and any other wound care products to ensure that injuries heal quickly and safely. Read on to learn more about some first aid and wound care basics so you'll be prepared for whatever comes your way.
First Aid Supplies For Cuts And Scrapes
Before you perform any first aid on cuts or scrapes, thoroughly wash and dry your hands to help prevent the possibility of an infection. If the wound is minor, it should stop bleeding on its own. For more severe cuts or scrapes, apply gentle pressure with a bandage from your first aid kit and elevate the wound to help the bleeding stop. Clean the wound with water to reduce the risk of infection and remove any dirt or debris using a pair of first aid scissors. Clean the scissors with alcohol before using them on a wound.
Wound Care Supplies
After the bleeding has stopped and the wound is clean, apply an antibiotic ointment in a thin layer. This will keep the area moist and help prevent scarring from occurring. Stop treatment if you notice a rash or other irritation. Cover the wound or scrape using rolled gauze, a gauze pad with tape, or a traditional bandage. This will keep the wounded area clean. If the wound looks deep, you may need to consider a tetanus shot. Give the wound time to heal and pay close attention to look for any signs of infection. This may include redness, worsening pain, warmth, or swelling of the area.
First Aid Kit Necessities
Every home should have at least one first aid kit stocked with supplies. If you don't have a first aid or wound care kit, here are some basics items that should be included:
• Antibiotic ointments: this cream or gel should be applied to clean wounds to prevent infection
• First aid-rated tweezers: these tweezers are usually made of plastic and are designed to remove glass and other debris from cuts and wounds
• Gauze and bandages: all first aid kits should contain several sizes of bandages as well as a roll of gauze
• First aid tape: tape is used to adhere gauze to wounds until they heal
• Latex gloves: always use gloves when treating someone with a wound
• Digital thermometer: check your temperature if you have a wound to ensure you don't have a fever, since this may indicate a possible infection
Related Searches
fsa first aid kits, best scar treatment, new insect repellent, lice treatment shampoo, hemorrhoid wipes, best burn treatment, best wart removal