Schedule your FREE bivalent COVID-19 vaccine today
COVID-19 vaccine is no cost with most insurance plans
Latest news
The Centers for Disease Control and Prevention (CDC) has announced the bivalent COVID-19 vaccine will now be used as the singular vaccination for all age groups. Individuals who are 65 years of age and older or immunocompromised that have received a single dose of a bivalent vaccine may receive one additional dose following their initial bivalent dose. The previously authorized primary series doses for COVID-19 vaccines are no longer available per Food and Drug Administration (FDA) guidance. Learn what this may mean for you based on your vaccination status by clicking the CDC link below.
COVID-19 bivalent vaccine: what you need to know
The updated booster targets Omicron subvariants BA.4 and BA.5, and the original strain of the COVID-19 virus, in a single shot. It can help provide protection for you, your family and friends.
A bivalent vaccine is recommended for individuals ages 6 or older to be up to date with the COVID-19 vaccination schedule, regardless if the primary series was previously completed.
The CDC's new recommendation allow an additional bivalent vaccine dose for adults ages 65 years or older and additional doses for people who are immunocompromised. Individuals ages 6 years and older who have already received an updated mRNA vaccine do not need to take any action unless they are 65 years or older or immunocompromised.
COVID-19 vaccine information for children
Should your kids be vaccinated?
Getting a COVID-19 vaccine can help keep children from getting seriously sick. Consult your physician for more guidance and information.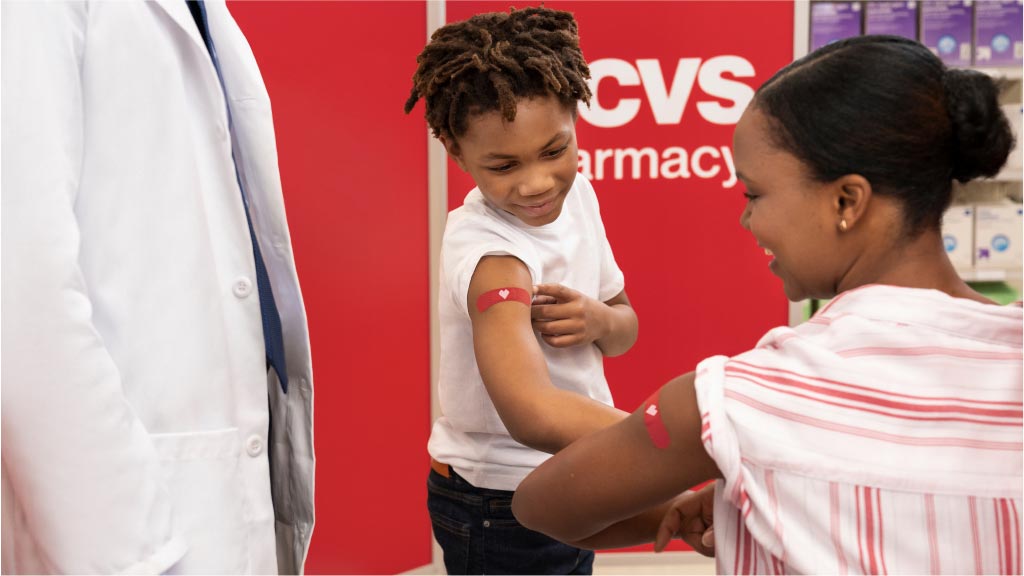 CVS Health's trusted immunizers
To date, CVS Health® has safely administered over 59 million COVID-19 vaccines.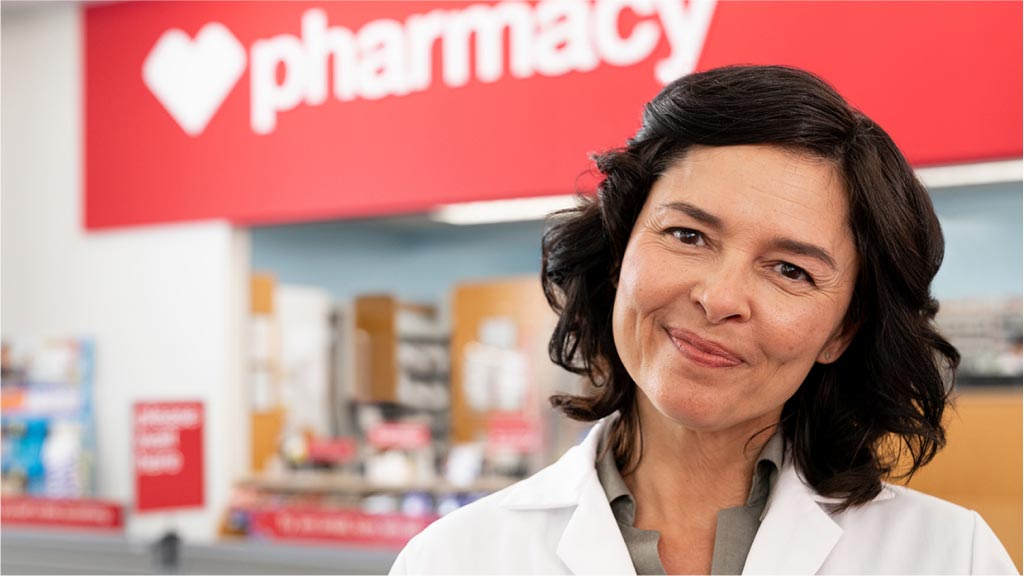 We can help with side effects
Side effects may occur, but are generally mild. Our practitioners can provide information on how to handle your child's potential side effects.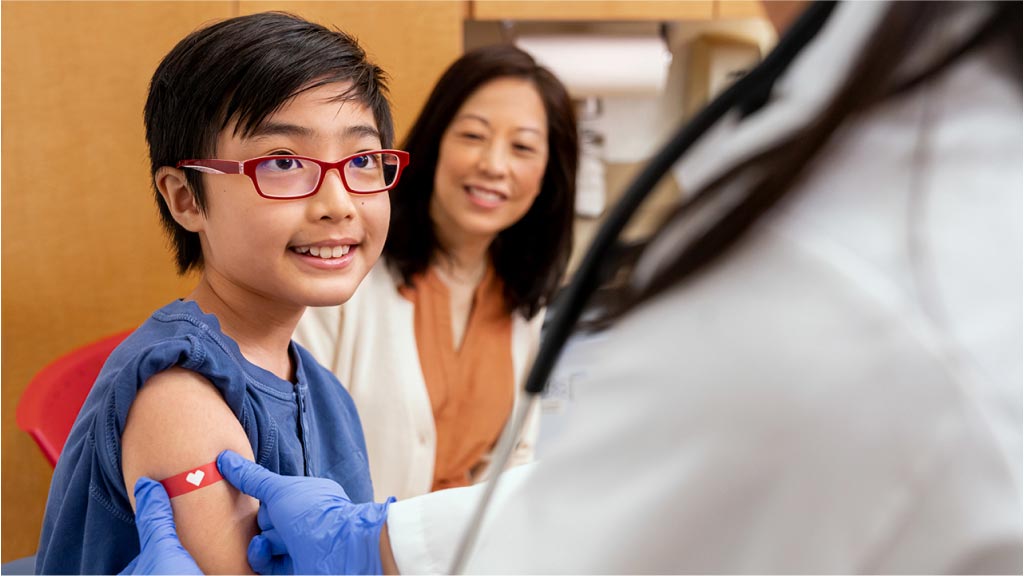 We're here to help with your COVID-19 needs
Explore vaccine, testing & treatment options
Access to your vaccine records anytime, anywhere
CDC recommended COVID-19 vaccination schedule
We make vaccinations easy
The vaccines you need, all in one place™
Schedule more vaccines for you and your family, including flu, pneumonia, shingles and more.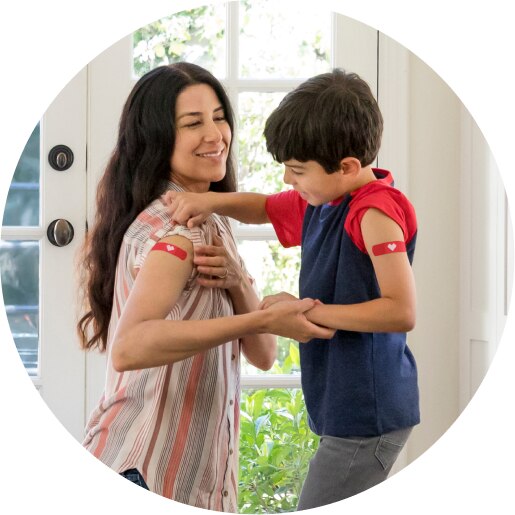 COVID-19 Vaccine Frequently Asked Questions
The monovalent COVID-19 vaccine previously used for the primary series is no longer authorized for use. In order to simplify the vaccination schedule for most people, the CDC now recommends most individuals receive a single dose of an FDA authorized mRNA bivalent vaccine, rather than multiple doses of the original monovalent mRNA vaccines.
The CDC's new recommendations allow an additional bivalent vaccine dose for adults ages 65 years and older and additional doses for people who are immunocompromised. Individuals ages 5 years and older who have already received an updated mRNA vaccine do not need to take any action unless they are 65 years or older or immunocompromised.
Most unvaccinated people may receive a single dose of a bivalent vaccine rather than multiple doses of the original monovalent mRNA vaccines. To determine your eligibility, please complete our digital scheduler at CVS.com or speak to your local pharmacist.
CVS Pharmacy and MinuteClinic follow the most up-to-date federal guidance as it relates to COVID-19 vaccine administration. We offer Moderna and Pfizer-BioNTech COVID-19 bivalent mRNA vaccines for all doses administered to eligible people.
The CDC has taken steps to simplify COVID-19 vaccine recommendations and allow more flexibility for people at higher risk who want the option to receive an additional bivalent COVID-19 vaccine dose. The CDC's recommendations allow an additional bivalent vaccine dose for adults ages 65 and older and additional doses for people who are immunocompromised.
CVS.com and the CVS Pharmacy app will be updated to reflect active vaccinating CVS Pharmacy locations, and MinuteClinic.com will be updated for MinuteClinic locations.
Yes. Patients may visit CVS.com or the CVS Pharmacy app to schedule an appointment for a COVID-19 vaccine. They will also have the option to schedule other vaccinations, including flu, during an appointment.
Currently, our CVS Pharmacy locations that are offering the COVID-19 vaccine to eligible populations have either the Moderna or Pfizer-BioNTech vaccine. Patients can see which CVS Pharmacy location has which vaccine and check out appointment availability on CVS.com before scheduling.
No. Per CDC guidance, patients do not have to receive the same brand of bivalent COVID-19 vaccine as the one they received during their primary series or previous monovalent booster(s).
Pediatric doses of the Pfizer-BioNTech COVID-19 vaccine for ages 5 through 11 are available at select CVS Pharmacy and MinuteClinic locations. We recommend parents and guardians check CVS.com, the CVS Pharmacy app or MinuteClinic.com to find locations near them with available appointments.
Pediatric doses of the COVID-19 vaccine for children 18 months through four years of age are available at most MinuteClinic locations. For children less than 18 months of age, please contact your pediatrician or health care provider.
A bivalent vaccine is created to generate an immune response against two different antigens, or viruses. In this case, the updated vaccine includes an mRNA component of the original strain to provide an immune response that is broadly protective against COVID-19 and an mRNA component in common between the omicron variant BA.4 and BA.5 lineages to provide better protection against COVID-19 caused by the omicron variant.
The FDA has rigorous scientific and regulatory processes in place to facilitate development and ensure the safety, effectiveness and quality of COVID-19 vaccines. As of August 23, 2021, the FDA has issued full approval of the Pfizer-BioNTech vaccine for use with individuals ages 16 and over, and as of January 31, 2022 has issued full approval for the Moderna vaccine for use in individuals ages 18 and over.
The previously issued Emergency Use Authorizations (EUA) for COVID-19 vaccines manufactured by Pfizer-BioNTech (for ages 6 months to 15 years), Moderna (for ages 6 months to 17 years) and Johnson & Johnson's Janssen remain in effect. An EUA gives the FDA authority to allow unapproved medical products to be used in emergencies when no approved alternatives are available. Other COVID-19 vaccines are in development and will be reviewed by the FDA under EUA. Find the current status of the vaccine approvals and EUAs.
Yes, a parent or legal guardian must complete the online registration on the CVS website for minors seeking the COVID-19 vaccine. An adult must accompany children ages 12–15 to the appointment at CVS Pharmacy, but does not need to accompany teens ages 16 and older, unless required by local or state law.
CVS Health immunizers include pharmacists, pharmacy interns and trained pharmacy technicians, as well as other qualified health care professionals depending on each state's specific regulations. All CVS Health immunizers are certified according to company requirements, trained in the administration of immunizations, and hold an active CPR certification.
According to the CDC, you may have some side effects following the COVID-19 vaccine but are generally mild and resolve on their own. Common side effects include pain and swelling on the arm where you got the shot, and fever, chills, tiredness and headache throughout the rest of your body.
CVS Health immunizers are trained in the safe administration of the COVID-19 vaccines authorized for use by the FDA, including identifying and treating allergic reactions. The vaccination procedures include a patient screening checklist to assess the risk of reaction. All patients are monitored for 15 minutes after administration of the injection, or longer for people with a history of severe allergic reactions. Our immunizers are equipped with appropriate medications, such as epinephrine and antihistamines. Further information on COVID-19 Vaccines and allergic reactions can be found here.
Yes. As of September 2021, the CDC is strongly recommending that people who are pregnant or planning to become pregnant receive the COVID-19 vaccination. The CDC recommendations align with those from professional medical organizations serving people who are pregnant, including the American College of Obstetricians and Gynecologists and the Society for Maternal Fetal Medicine along with many other professional medical organizations. When unvaccinated pregnant people contract COVID-19, they may experience severe disease and higher rates of hospitalization, ICU admission and death than non-pregnant people. More information about COVID-19 vaccines while pregnant, breastfeeding or planning to become pregnant is available here.
At this time, you may only access your own vaccination records or those of your minor children. Any patient age 18 or older must create their own account to access their vaccination records.
Check your email for the COVID-19 vaccination record if both the following conditions apply:
The minor was vaccinated at CVS Pharmacy®

An email address was provided at scheduling/check-in
A record of the vaccination should have been immediately sent to that address. It would have been sent from the email address Pharmacy@Notification.CVSHealth.com with a subject line of "For Your Records."
Sign in to your CVS account or create an account if you do not have one. (You may first have to verify your identity if you have not done so in the past.)

Go to:

Pharmacy

Pharmacy Settings

Manage Family Members

Add a person

To add your minor, we first need to locate their pharmacy records by using their patient information or a prescription number.

Quick tip:

The prescription (Rx) number can be found on any prescription bottle, as well as on the vaccination confirmation email referenced in the previous question ("How do I view my minor child's vaccination records?") with the subject line "For your records."

Once the pharmacy records are found, you will be asked to confirm that you are the parent or legal guardian.

Once you confirm: Success! Your minor child's Rx records are now available for viewing online.
If you're trying to view your minor child's vaccination record, view or create an account at Care.CVS.com.
Log in with your CVS account details

You may be asked to verify your identity before you can view your child's record

Once you have logged in and verified your identity, visit "Vaccinations" on the webpage.