Get a flu
shot anytime.*
Get a flu
shot anytime.*
2 great choices for flu shots.
No appointment needed.
Choose CVS Pharmacy® for adult
and high-dose vaccines.
Choose MinuteClinic® for
pediatric, adult and high-dose.
Select Markets Only
Flu outbreak in your area?
Ways to fight the flu.
From MinuteClinic® Chief Nurse Practitioner Officer Angela Patterson

Get a flu shot - it's the best way
to protect from the flu.

Boost your immunity with sleep, good nutrition
and hydration.

Wash your hands and don't touch your face.
Carry hand sanitizer, too.

Cover your cough. Cough or sneeze into tissues to contain germs.

Wipe down and disinfect
frequently touched surfaces to kill germs.
Brought to you by

Feeling sick?
We can help.
MinuteClinic® can test and provide
treatment options for the flu.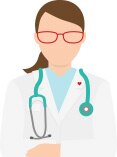 Vaccinations:
We're more than just flu.
Shingles shots, kids' vaccines and more: we
have the CDC-recommended vaccines you need.
*Flu shots available when immunizing pharmacist or MinuteClinic® health care provider is on duty, while supplies last. Age restrictions apply.
The Bullseye Design, Target and Target GiftCards are registered trademarks of Target Brands, Inc. Terms and conditions are applied to gift cards. Target is not responsible for the terms of this offer.
Legend
Map indicates geographic spread and does not meausure the severity of influenza activity.
Source: www.cdc.gov