Safer Communities
Who's taking your pills?
1 in 4 teens has misused or abused prescription drugs.* Most get them from the family medicine cabinet.
Help stop prescription drug abuse. Drop off your expired, unused or unwanted medications for safe disposal.
Find a Drop Box Location Near You
Does CVS dispose of old medications?
Unneeded or expired prescriptions left in the home can lead to accidental poisoning and can be an easy source for those seeking to misuse or abuse prescription medication.
Be sure to safely and appropriately discard all remaining medication as soon as possible. To find a convenient disposal location near you, including select CVS locations, visit https://safe.pharmacy/drug-disposal/.
How to dispose of medication?
Once you find a participating CVS location, simply bring in your unneeded or expired medication and place it in the drug take back unit conveniently located in the Pharmacy Waiting Area. Units are available during regular pharmacy hours. Please contact your local pharmacy for hours of operation.
What items are accepted?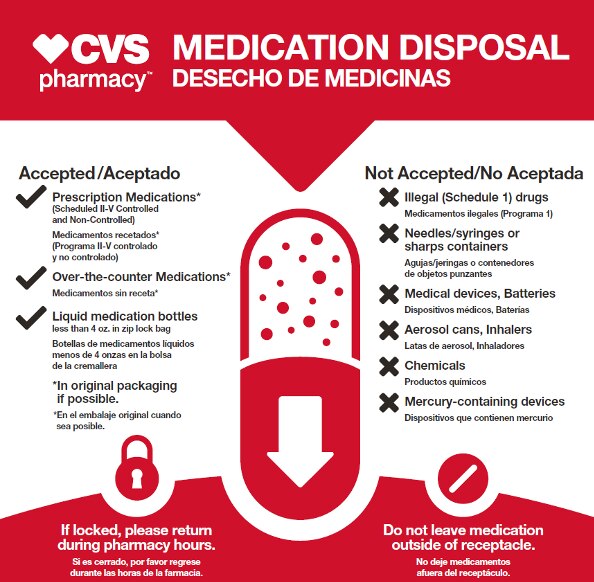 How else is CVS encouraging safe medication disposal?
From 2014 through 2022, CVS Pharmacy® partnered with local law enforcement agencies to remove more than 1 million pounds of unwanted and expired medications from U.S. households.
Does CVS offer DisposeRx?
All CVS Pharmacy locations that do not currently have a safe medication disposal kiosk now offer DisposeRx packets at no cost to patients filling an opioid prescription for the first time. According to the manufacturer, when water and the DisposeRx powder are added to a pill bottle with unwanted prescription medications the combination produces a biodegradable gel, allowing for safe disposal at home.
How to find a drug drop off near me?
By working with Google Maps, CVS Health is also making it easier for consumers to find year-round medication disposal options at CVS Pharmacy and other locations. Consumers can quickly search "medication disposal near me" in Google Maps to locate permanent disposal locations in their community.
We are proud to provide safe prescription drug disposal options in all communities we serve!
*2015 Partnership Attitude Tracking Survey by The Partnership™ for Drug-Free Kids.