Allergy relief

is a visit away*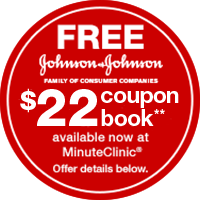 What causes seasonal allergies?
Also called hay fever and seasonal allergic rhinitis, a seasonal allergy is a reaction to small airborne substances. These allergens are small proteins that usually float around in the spring, summer and fall.
FREE $25 Johnson &
Johnson coupon book**
available now at MinuteClinic®
Offer details below.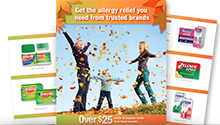 Seasonal sufferers count tree, grass and weed pollens as enemies.
You're at greater risk of allergic rhinitis if you have eczema, asthma or food allergies, or if someone in your family has allergies, eczema or asthma.

We're here to help
Find out more about our service
and nearby clinics that offer it.
Open 7 days a week
No appointment necessary
Most insurance accepted

*Ages 24 months and older.
**Brought to you by McNeil Consumer Healthcare Division of McNEIL–PCC, Inc. No purchase necessary. Available while supplies last.
Restrictions apply. Limit 1 per customer. Coupons expire 12/1/14.