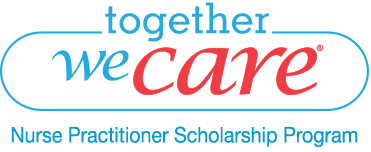 Congratulations to our winners!
We're invested in your future
MinuteClinic® and Johnson & Johnson Family of Consumer Companies have teamed up again to bring you the 2015 TOGETHER WE CARE® Nurse Practitioner Scholarship Program.
This program will give up to 35 nurse practitioner scholarships:
30 Nurse Practitioner Scholarships at $2,500 each
5 Doctor of Nursing Practice Scholarships at $5,000 each
Who is eligible to apply?
Applicants must meet all of the following criteria to be eligible for one of these scholarships:
Must be a legal U.S. resident
Must be enrolled in either a nurse practitioner program with a nationally accredited master's degree leading to licensure as an APRN with family nurse practitioner specialty OR with a special interest in community or public health
OR
Must be enrolled in a nationally accredited doctor of nursing practice program leading to licensure as an APRN with family nurse practitioner specialty or with other specialty
Must demonstrate high academic performance, with a GPA or 3.2 or higher
Must have strong community involvement/leadership activities
When is the deadline?
The 2015 program has closed. Congratulations to our winners! Want to apply next year? Check back for more information about the 2016 program.
Learn about career opportunities with MinuteClinic.
Looking for clinic experience?
Our preceptor program offers the most unique experience available because you are doing more than just enhancing your clinical skills.
Learn More
What 2014 winners are saying about Together We Care:
There are so many amazing nurses and students and to be recognized through this award is truly humbling.
— Carrie Camp, Loyola University, Chicago
It is an honor to stand together with a new generation of nurse practitioners whose goal ... is to provide the best health care for all individuals.
— Kimberly Hawkins, California State University - San Marcos
A sincere thanks from the bottom of my heart.
— Jessica Seul, Indiana State University
Explore exciting careers with MinuteClinic®
Nurse practitioners and physician assistants can find the career satisfaction they seek at MinuteClinic.*
Not only do we share your perspective as a practitioner but we also know what makes your work extraordinarily satisfying, such as:
More autonomy
Better scheduling options
Hourly pay
Competitive benefits and more
Create the career you've always wanted at MinuteClinic.
Learn More
MinuteClinic and Johnson & Johnson reserve the right to modify or terminate the "Together We Care" Nurse Practitioner Scholarship Program without notice at any time and for any reason. No purchase necessary. Restrictions apply. Void where prohibited by law.