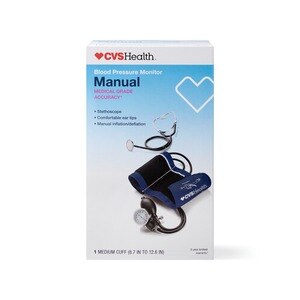 CVS Self Taking Blood Pressure Monitor
Model: BPAG1-20CVS. Manual operation puts you in charge. Medical grade accuracy (gauge accurate to +/- 3 mmHg in accordance with ANSI/AAMI SP10). Comfortable eartips. Auto-deflation valve. A manually operated monitor allows you to control the inflation of your cuff. Our Self Taking Blood Pressure Monitor is an effective tool that gives accurate blood pressure readings to +/- 3 mmHg. The easy-to-read sphygmomanometer (blood pressure gauge) comes with a stethoscope for listening to your heart beat, plus a case for safe storage. Featured Benefits: Gauge delivers medical grade accuracy to +/- 3 mmHg, in accordance with ANSI/AAMI. Manual inflation with auto-deflation valve, no batteries needed. Stethoscope has comfort ear tips for clear sound. Arm cuff fits sizes 8.7 - 12.6 inches. Storage case keeps monitor safe when not in use. Latex-free. Home blood pressure monitors help you measure your blood pressure in a comfortable environment, making it easy for you to track changes, keep a record for your doctor, and help you manage your overall health. Includes: high quality sphygmomanometer; stethoscope; arm cuff; storage case; instruction manual. Made in China.
Step 1: Slide the cuff onto your arm until the bottom edge is about 1/2 inch above your elbow. Tighten the cuff until it is snug against your arm, but not too tight. Step 2: Insert the stethoscope, flat side down, underneath the arm cuff and over your brachial artery. Insert the eartips of your stethoscope into your ears. Step 3: Use the pump ball to inflate the cuff. Release the air in the cuff by opening the valve. Listen for pulse sounds to determine your blood pressure. Complete instructions included. Read instructions carefully before use.