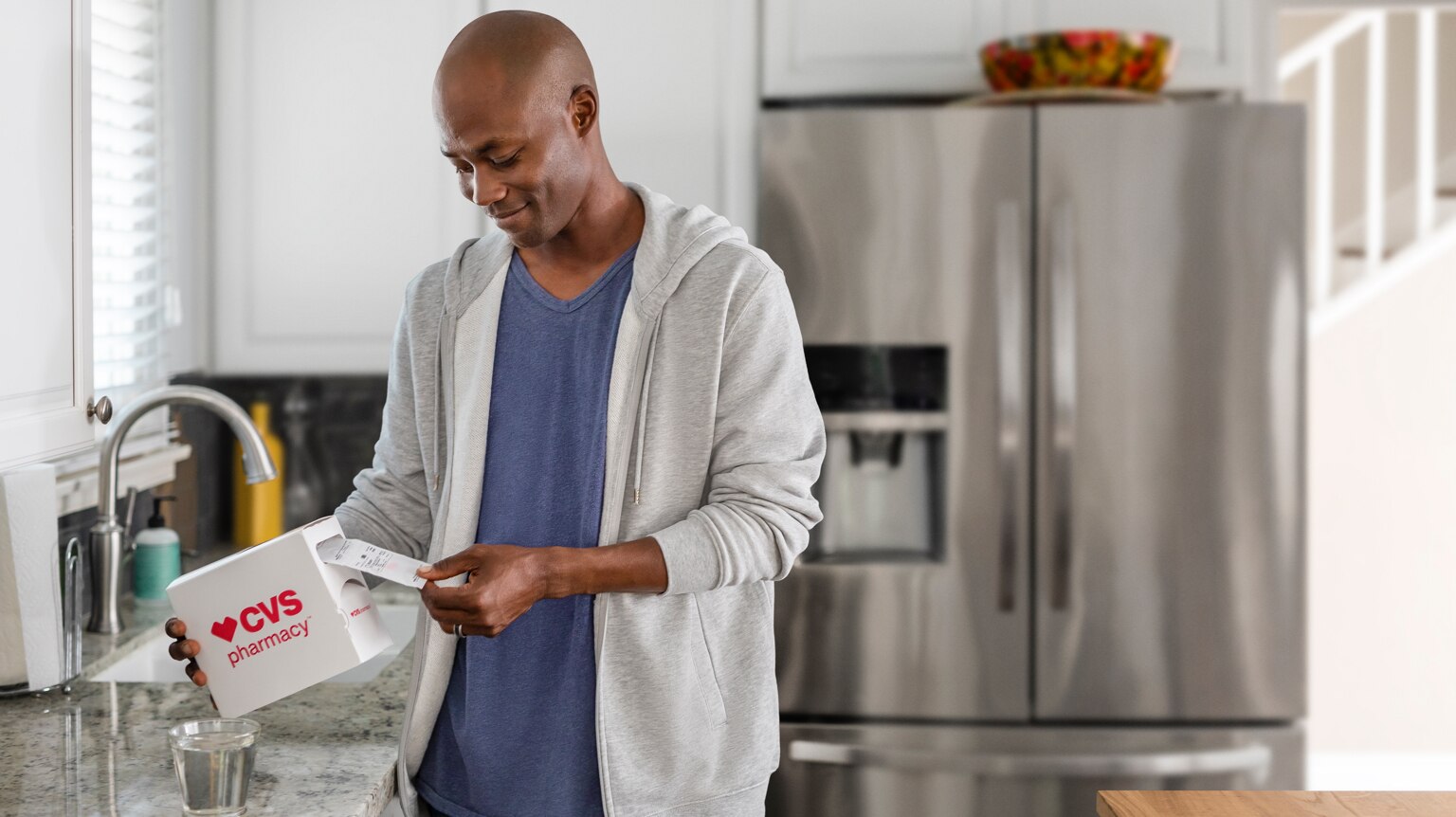 Multiple Rx, one easy box.
Manage your Rx with SimpleDose™, presorted Rx packs at no added cost.* Each box contains a 30 day supply, delivered to your home* or local CVS Pharmacy®, all backed by trusted CVS pharmacists.
Click to

Enroll now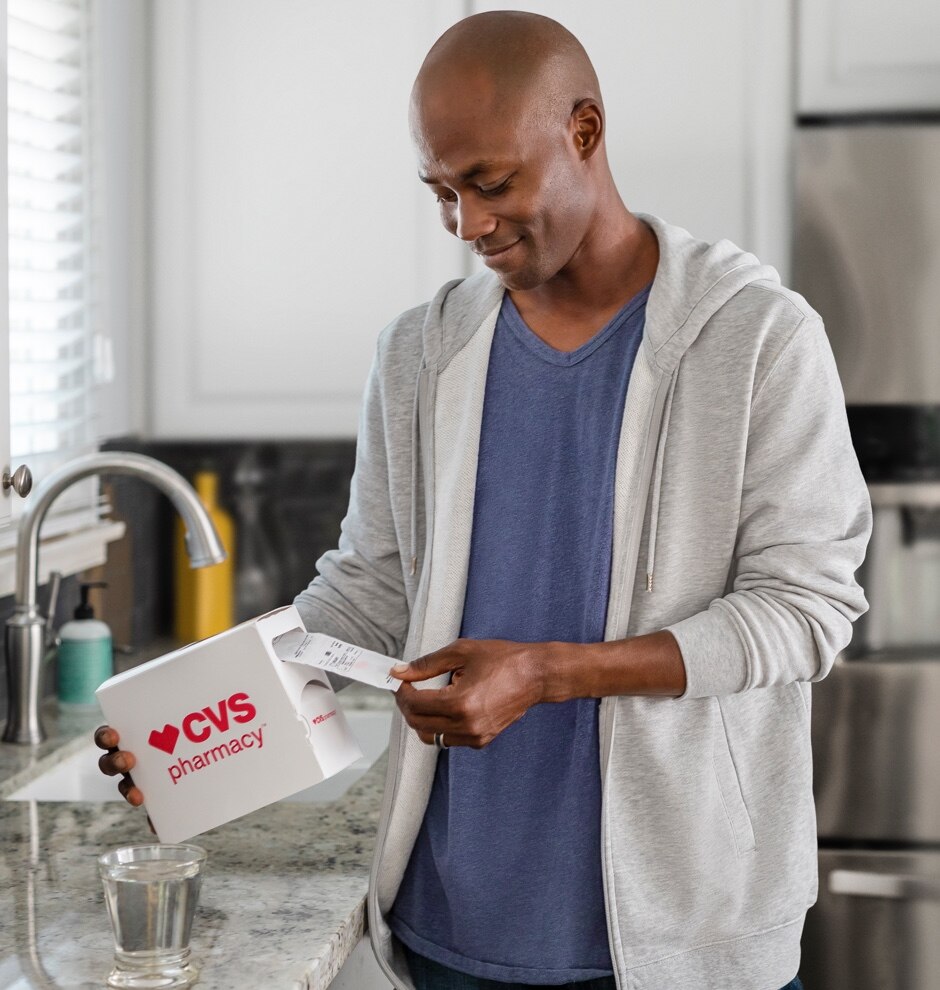 Know exactly what you're taking and when.
An easier way to stay on track at no added cost.*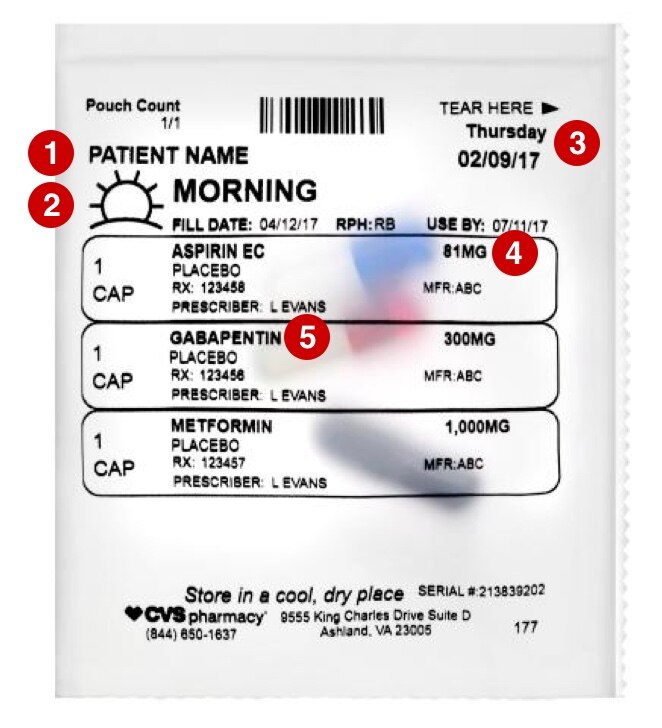 Your name
Icons for time to take
Date to take
Dosage strength
Medicine name & description
Organized. Synchronized. Personalized.
Presorted Rx packs make your scripts easier to take. One of the many ways CVS® can help.
Patient reading the medication labels on SimpleDose box.
Getting started is easy.
Have multiple Rx and want to enroll? Here's what to have on hand:
A list of your medications and prescribers
Your current pharmacy location
Billing and insurance information
Click to

Enroll now
Earn rewards faster.
With ExtraCare Pharmacy & Health Rewards®, each of the Rx within a presorted pack earns you 1 credit toward ExtraBucks® Rewards.*
*FOR NO ADDED COST CLAIM: SimpleDose™ is provided without additional fees. Drug costs may change when prescriptions are transferred to a new pharmacy or change from a 90-day prescription to a 30-day prescription. To align prescriptions on a 30-day cycle, 1 or more additional copays may be required by the patients plan. Patients can discuss this with their CVS Pharmacy® team.
*FOR PRESORTED RX PACKS DELIVERY: Some restrictions may apply.
*FOR CUSTOMERS ARE BETTER CLAIM: Based on 2019 study of national retail chain customer prescription adherence for diabetes, hypertension and hyperlipidemia medications.
*FOR PHARMACIST AVAILABILITY: 24/7 in select states and stores.
*FOR PHARMACY & HEALTH REWARDS: You must enroll in both the ExtraCare® and ExtraCare Pharmacy & Health Rewards® program to earn Pharmacy & Health ExtraBucks Rewards®. An individual can earn up to $50 in Pharmacy & Health ExtraBucks Rewards in a calendar year in connection with the program. See program rules for details at CVS.com/ExtraCare-CVS/RxRewards or ask a CVS pharmacist for a copy. Rewards cannot be earned on any prescriptions purchased in AR, NJ or NY; any prescriptions transferred to a CVS Pharmacy® in AL, MS or OR; any controlled substance prescriptions purchased in HI or LA; or where otherwise prohibited by law. CVS Pharmacy reserves the right to modify or terminate the ExtraCare Pharmacy & Health Rewards program.