Rx Express Pickup
Prepay, pick up and go.
*
Fast-track your next pharmacy visit with Rx express pickup. It's easy.
Now, prepay for your prescriptions online or with our app.
**

You'll be in and out of the pharmacy faster.

Prepay before you go.
Tap the link in your order-ready text alert or the Rx ready bar in our app and follow the prompts. No co-pay? You can still check out.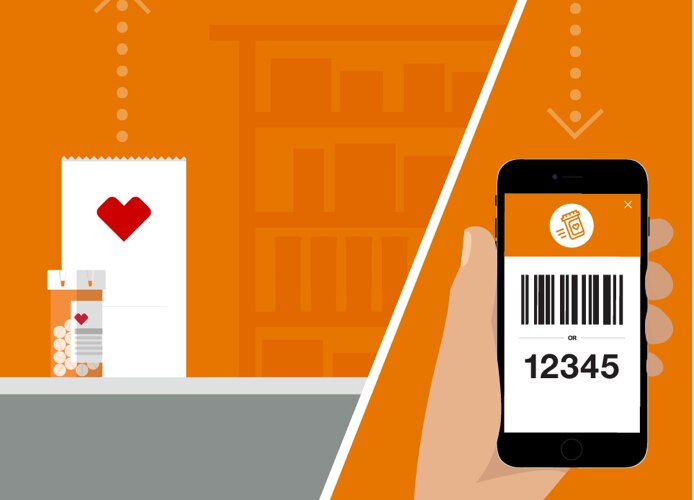 Get your barcode.
We'll text a link to your pickup barcode. You can pull it up in your app too. See you soon!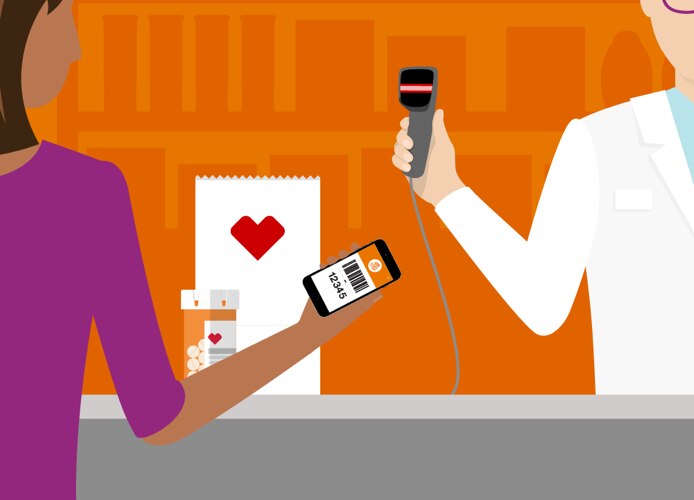 Come in.
If your pharmacy has an express mobile pickup line, you're in.† Either way, show your barcode to get your scripts. Done!
Frequently asked questions
There are some restrictions regarding what Rx orders can be fulfilled using this service. For example, controlled substances cannot be ordered online. Also, your insurance plan may only cover in-store pickup. Please always check with your insurance plan provider to learn about any limitations, restrictions or out-of-pocket costs that may apply.
You can still check out before you visit the store to get the benefit of faster Rx pickup.
If you are a Medicare Part B patient, there are restrictions specific to receiving certain medical supplies (example: diabetes test strips). They can be picked up at your CVS Pharmacy. We recommend you always check with your insurance carrier regarding prescription restrictions.
We accept most insurance plans. However, we recommend checking your insurance plan to verify that we are in your preferred/approved pharmacy network before placing a prepaid order; and to also verify coverage for the specific service you want to use. This will inform you about any out-of-pocket costs (including co-pays and deductibles) that you might be charged.
When you prepay for your Rx online, you are actually pre-authorizing a payment to be made to your stored credit, FSA or HSA card. When checkout is completed at the pharmacy, your card will be charged.
Yes, you can use your HSA card, debit or credit card to cover the cost of your Rx order, individually and in combination.
Yes, you can. Add both scripts to your order. At Checkout, your credit card will only be charged for the single co-pay.
No. In order to use this service, you will need to create an account on CVS.com to prepay for your Rx orders.
Yes, you can prepay and pick up their Rx orders. After you sign in to your CVS.com account, you will be prompted either to select who the prescription is for or to provide name and date of birth information. You don't need to create separate CVS.com accounts for each family member.
We'll send you a text with a link to your pickup barcode.
After you receive the text with your barcode, go to the pharmacy. You can use the dedicated mobile Rx pickup line if your pharmacy has one. Show your team member the scannable barcode to complete your checkout and receive your Rx order.
Yes, you can. When you pull up to the drive-thru window, tell the team member your order pickup number to complete your checkout for your prepaid prescriptions.
You have 72 hours to pick up your prepaid Rx order from the pharmacy. We will send you reminder texts about your order being ready for pickup. After 4 days, your prepayment authorization for your Rx order will be reversed and your items will be re-shelved. Your Rx order will always be available for in-store pickup.
*Available in select stores. Not available at CVS Pharmacy® in Target stores.
**Final costs (if any) will be determined and charged to your card at time of prescription pickup.
†Express mobile pickup line is available in select stores. If picking up at a pharmacy without a dedicated line, just get in the regular line and give your barcode. If in the drive-thru, give your pickup number.
††For help with the CVS Pharmacy® app download text alert, text "Help" to 287-277 or call 1-800-SHOPCVS. Agreement (EULA).