Tested to Be Trusted
You have standards.
So do we.
We require third-party laboratory testing of all vitamins and supplements. It's our commitment to you and your family.
To know if a product's been tested, check for a supplement facts panel.* You'll know that the label says is what you get.
What's in your supplement
The vitamin or supplement needs to contain the dietary ingredients and the amount per serving listed in the center of the Supplement Facts Panel.* We also test for gluten if a "gluten free" claim is made.
The Other Ingredients listed below the box are not confirmed. (Marked with an X in the example shown here.)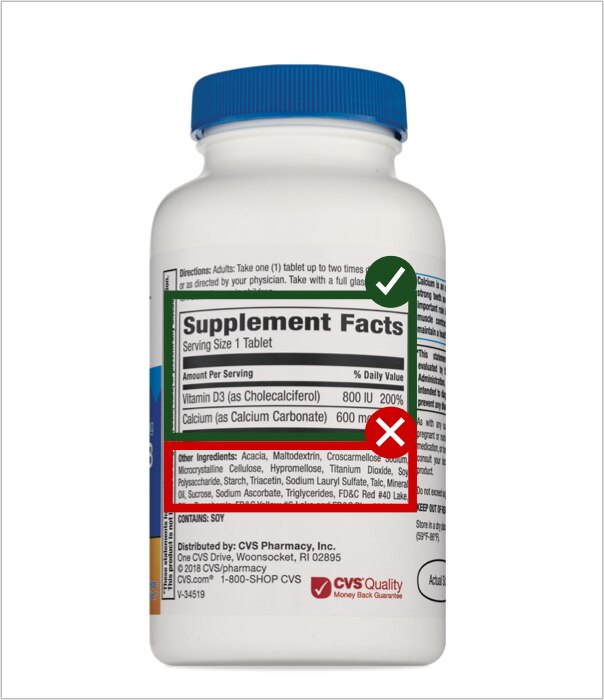 What's not in your supplement:
Products must be tested for specific identified harmful contaminants and must not exceed set standards.
These include:
Metals
These heavy metals can't exceed the current NSF/ANSI 173 Standard:
Inorganic arsenic
Cadmium
Chromium (VI)
Mercury

This heavy metal can't exceed the FDA Toxic Elements Working Group Interim Reference Level (IRL):

Lead
Pesticides
Products that claim to contain botanical ingredients can't contain pesticides exceeding the current NSF/ANSI 173 standard. Compounds tested are based on those suggested by the United States Department of Agriculture (USDA) National Organics Program document USDA-NOP-2611-1.
Microbiological components
Products are tested for certain microbiological contaminants in accordance with the current NSF/ANSI 173 standard.
Microbiological activity — aerobic plate count, yeast and mold — must be within current allowable limits. The presence of certain microbial pathogens, including salmonella, E. coli, S. aureus and enterobacteriaceae are also tested to confirm compliance to the standard.
Dietary supplements shall not contain aflatoxins at levels greater than 20 parts per billion.
Industrial contaminants in fish oil
When ingredients and products contain natural fish oil, manufacturers must have controls in place to screen for polychlorinated biphenyls (PCBs), polychlorinated debenzo-para-dioxins (PCDDs), polychlorinated dibenzofurans (PCDFs) and dioxin-like PCBs. The amount of total PCBs is in accordance with the current NSF/ANSI 173 standard.
Known adulterants
Products designed for weight loss or sexual enhancement are evaluated to ensure that they do not contain known adulterants. Adulterants selected are based on the guidance listed in NSF 306, the NSF International Athletic Banned Substance Screen standard.
"Free from" claims
Any gluten-free claims made on the packaging of a dietary supplement are verified following Food and Drug Administration (FDA) standards. Gluten-free products must be less than 20 parts per million gluten.
How it's made
Our suppliers are required to manufacture products in facilities that are registered with the FDA. We ensure our suppliers follow good manufacturing practices because how vitamins and supplements are made can impact what's inside.
---
Meet the third-party testing experts.
These industry leaders ensure the vitamins and supplements we sell meet our high standards. And they'll continue to verify the quality of products bearing these seals.*