Schedule your FREE COVID-19 vaccine today
Plus, get a $5 off $20* coupon emailed after vaccination with your FREE COVID-19 vaccine.* No cost with most insurance. Restrictions apply.
*COVID-19 vaccine is no cost with most insurance plans or government funding through the Health and Human Services (HHS) and Centers for Disease Control and Prevention (CDC) Bridge Program.
Important COVID-19 Vaccine Updates:
As of September 12, 2023, updated COVID-19 vaccines are now available that more closely target circulating variants. Based on the Centers for Disease Control and Prevention (CDC) guidelines, eligible patients can receive a single dose of an updated COVID-19 vaccine at least two months after their last dose of a COVID-19 vaccine.
COVID-19 vaccine information for children
Should your kids be vaccinated?
Getting a COVID-19 vaccine can help keep children from getting seriously sick. Consult your physician for more guidance and information.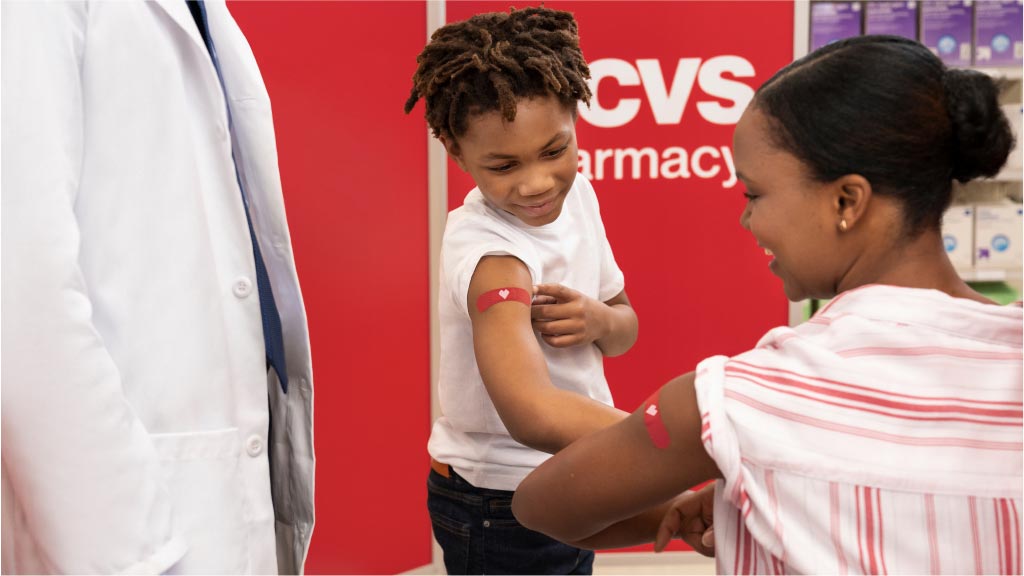 CVS Health's trusted immunizers
To date, CVS Health® has safely administered over 59 million COVID-19 vaccines.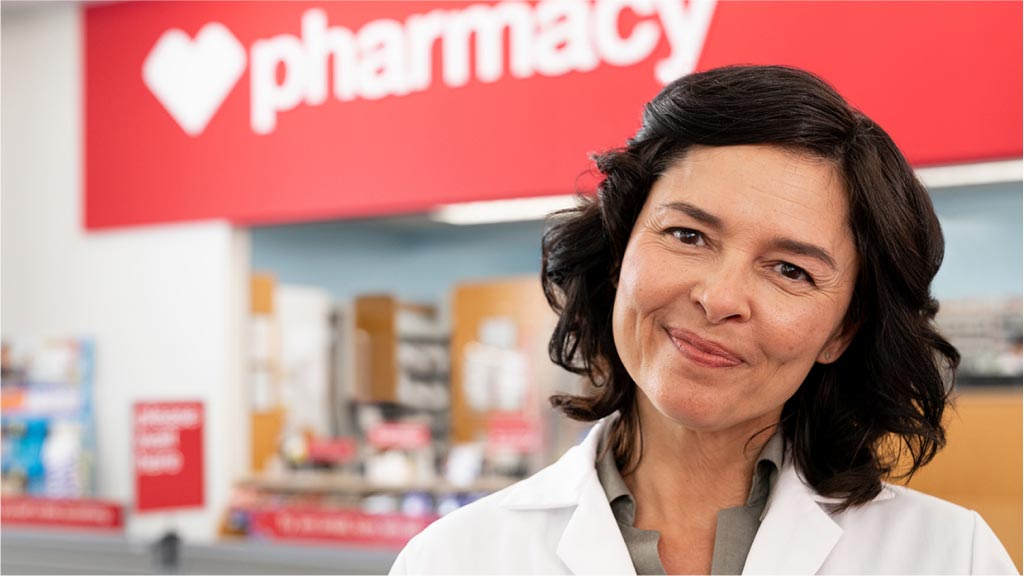 We can help with side effects
Side effects may occur, but are generally mild. Our practitioners can provide information on how to handle your child's potential side effects.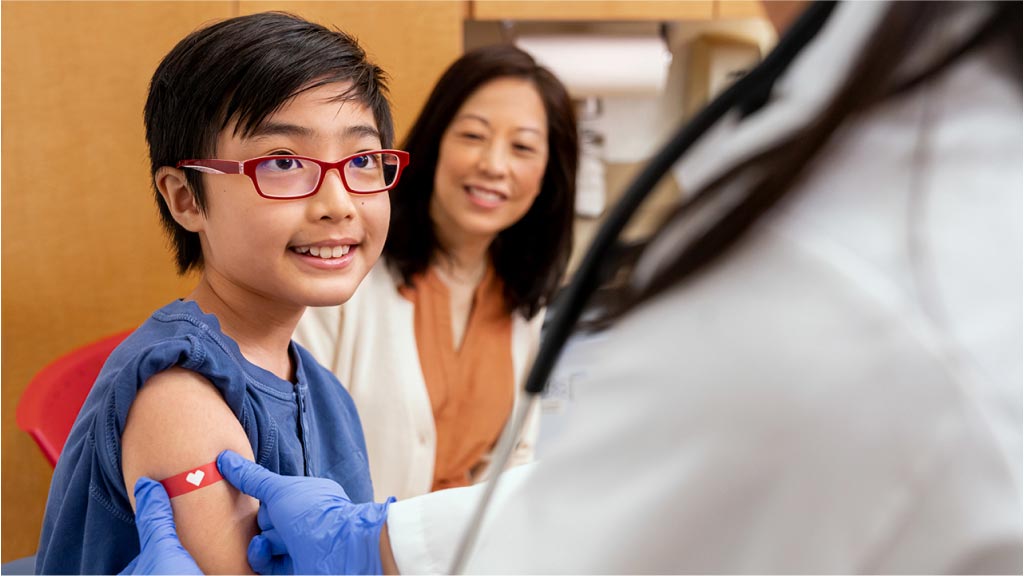 We're here to help with your COVID-19 needs
Explore vaccine, testing & treatment options
Access to your vaccine records anytime, anywhere
CDC recommended COVID-19 vaccination schedule
We make vaccinations easy
The vaccines you need, all in one place™
Schedule more vaccines for you and your family, including flu, pneumonia, shingles and more.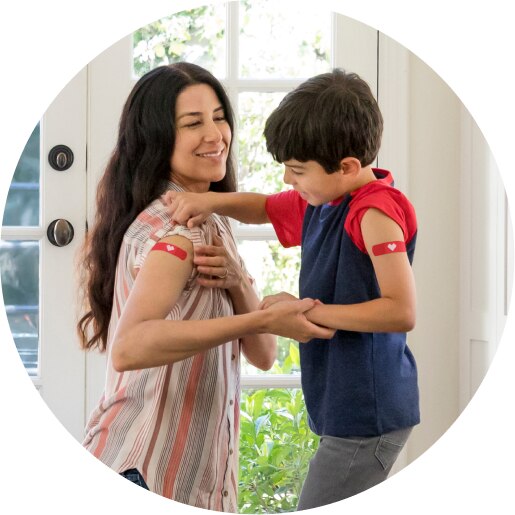 COVID-19 Vaccine Frequently Asked Questions
CVS.com and the CVS Pharmacy app will be updated to reflect active vaccinating CVS Pharmacy locations, and MinuteClinic.com will be updated for MinuteClinic locations.
Yes. Patients may visit CVS.com or the CVS Pharmacy app to schedule an appointment for a COVID-19 vaccine. They will also have the option to schedule other vaccinations, including flu, during an appointment.
Currently, our CVS Pharmacy locations that are offering the COVID-19 vaccine to eligible populations have either the Moderna or Pfizer-BioNTech vaccine. Patients can see which CVS Pharmacy location has which vaccine and check out appointment availability on CVS.com before scheduling.
Pediatric doses of the Pfizer-BioNTech COVID-19 vaccine for ages 5 through 11 are available at select CVS Pharmacy and MinuteClinic locations. We recommend parents and guardians check CVS.com, the CVS Pharmacy app or MinuteClinic.com to find locations near them with available appointments.
Pediatric doses of the COVID-19 vaccine for children 18 months through four years of age are available at most MinuteClinic locations. For children less than 18 months of age, please contact your pediatrician or health care provider.
Yes, a parent or legal guardian must complete the online registration on the CVS website for minors seeking the COVID-19 vaccine. An adult must accompany children ages 12–15 to the appointment at CVS Pharmacy, but does not need to accompany teens ages 16 and older, unless required by local or state law.
CVS Health immunizers include pharmacists, pharmacy interns and trained pharmacy technicians, as well as other qualified health care professionals depending on each state's specific regulations. All CVS Health immunizers are certified according to company requirements, trained in the administration of immunizations, and hold an active CPR certification.
According to the CDC, you may have some side effects following the COVID-19 vaccine but are generally mild and resolve on their own. Common side effects include pain and swelling on the arm where you got the shot, and fever, chills, tiredness and headache throughout the rest of your body.
CVS Health immunizers are trained in the safe administration of the COVID-19 vaccines authorized for use by the FDA, including identifying and treating allergic reactions. The vaccination procedures include a patient screening checklist to assess the risk of reaction. All patients are monitored for 15 minutes after administration of the injection, or longer for people with a history of severe allergic reactions. Our immunizers are equipped with appropriate medications, such as epinephrine and antihistamines. Further information on COVID-19 Vaccines and allergic reactions can be found here.
Yes. As of September 2021, the CDC is strongly recommending that people who are pregnant or planning to become pregnant receive the COVID-19 vaccination. The CDC recommendations align with those from professional medical organizations serving people who are pregnant, including the American College of Obstetricians and Gynecologists and the Society for Maternal Fetal Medicine along with many other professional medical organizations. When unvaccinated pregnant people contract COVID-19, they may experience severe disease and higher rates of hospitalization, ICU admission and death than non-pregnant people. More information about COVID-19 vaccines while pregnant, breastfeeding or planning to become pregnant is available here.
At this time, you may only access your own vaccination records or those of your minor children. Any patient age 18 or older must create their own account to access their vaccination records.
Check your email for the COVID-19 vaccination record if both the following conditions apply:
The minor was vaccinated at CVS Pharmacy®

An email address was provided at scheduling/check-in
A record of the vaccination should have been immediately sent to that address. It would have been sent from the email address Pharmacy@Notification.CVSHealth.com with a subject line of "For Your Records."
Sign in to your CVS account or create an account if you do not have one. (You may first have to verify your identity if you have not done so in the past.)

Go to:

Pharmacy

Pharmacy Settings

Manage Family Members

Add a person

To add your minor, we first need to locate their pharmacy records by using their patient information or a prescription number.

Quick tip:

The prescription (Rx) number can be found on any prescription bottle, as well as on the vaccination confirmation email referenced in the previous question ("How do I view my minor child's vaccination records?") with the subject line "For your records."

Once the pharmacy records are found, you will be asked to confirm that you are the parent or legal guardian.

Once you confirm: Success! Your minor child's Rx records are now available for viewing online.
If you're trying to view your minor child's vaccination record, view or create an account at Care.CVS.com.
Log in with your CVS account details

You may be asked to verify your identity before you can view your child's record

Once you have logged in and verified your identity, visit "Vaccinations" on the webpage.
FOOTNOTES AND DISCLAIMERS:
*FOR $5 OFF $20 COUPON: Redeemable in store at CVS Pharmacy® and Longs Drugs® locations for one-time use only between August 14 through December 31, 2023. Coupon received via email after vaccination. Limit one per customer per eligible vaccine visit. $5 savings applied to total qualifying purchase of at least $20 (after other coupons and discounts are applied). Limit one coupon per transaction. Reward cannot be issued in Arkansas, New Jersey and New York at Target or Schnucks locations or at MinuteClinic® locations in Arkansas, Massachusetts, New Jersey, New York, Pennsylvania and Rhode Island. Coupon is void if copied or transferred and where prohibited by law. Internet printed or counterfeit coupons prohibited. Original must be relinquished with purchase. ExtraCare® card required to receive savings. Coupon cannot be combined with any other CVS Pharmacy coupon. Coupon excludes alcohol, bottle deposits, bus passes, copays, ephedrine/pseudoephedrine products, gift cards, hunting and fishing licenses, lottery tickets, magazines, milk (where required by law or regulation), money orders, newspapers, postage stamps, prepaid cards, prescriptions, sale or promotional merchandise, any imposed governmental fees or items reimbursed by a government health plan. Tax charged on pre-coupon price where required. No cash back. Retailer's coupon. Bearer assumes all sales and use tax liability. CVS® reserves the right to modify this offer. 

*FOR RESTRICTIONS APPLY: COVID-19 vaccine is no cost with most insurance plans or government funding through the Health and Human Services (HHS) and Centers for Disease Control and Prevention (CDC) Bridge Program for eligible patients. Available at most CVS Pharmacy® and MinuteClinic® locations when a certified immunizer is on duty. Restrictions apply.