Pharmacy Text Alerts
Sign up for pharmacy text alerts.
Know when your prescriptions are ready and more.
Just text "Join" to CVS-TXT (287-898).
Have a prescription bottle ready. We'll ask for:
Prescription number
Birth year
Pharmacy phone number
It's as easy as that! You'll begin receiving text alerts about your medications. (Please wait 24 hours for the first alert to arrive.)
By enrolling in CVS Pharmacy® text alerts, you agree to the text alert terms and conditions below.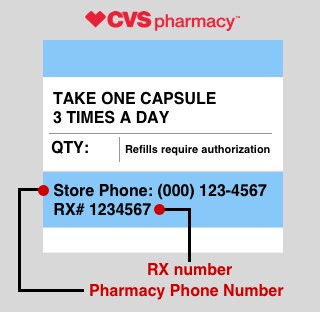 Frequently asked questions
CVS Pharmacy® allows enrolled pharmacy customers to receive real-time text alerts about their prescriptions and other pharmacy services. These may include important prescription status alerts such as when prescriptions are ready for pickup, alerts regarding issues with a prescription (i.e. insurance, inventory, etc.), reminders when it's time to refill, notifications about flu shot availability and other helpful healthcare information.
Just text "Join" to CVS-TXT (287-898). Have your Rx bottle ready as we'll ask for the prescription number, birth year and pharmacy phone number. You also can speak with a pharmacy team member.
You can manage your preferences for automated pharmacy reminders and text alerts through a number of convenient options:
Call. Toll-free 1-800-SHOP CVS and either speak to an agent or use the automated voice menu to opt out of automated text messages. If you speak with an agent, you also have the flexibility to opt out of prescription refill reminders while continuing to receive a timely message when your prescription is ready for pickup.
Text. Opt out of future text alerts any time by texting STOP to CVSTXT (287898). You can choose to continue receiving prescription ready reminders if you text READY after texting STOP.
Pharmacy Team. Just talk to your local pharmacy team. They can call an internal number to opt you out.
CVS.com® account. Opt out of prescription refill alerts by signing into your CVS.com account and changing your pharmacy settings.
Email. Send an email to do_not_call@cvshealth.com with the phone number you wish to opt out.
If you enrolled in store:
You are automatically removed from the program if you change mobile carriers. Just ask a pharmacy team member to sign you up again. If you didn't change your mobile phone service, please confirm with your wireless carrier that our shortcode (287-898) is not blocked on your account.
If you enrolled online:
You must reply to the first alert you receive to confirm your participation and complete your enrollment. If you didn't receive this alert, please confirm with your wireless carrier that our shortcode (287-898) is not blocked on your account.
As a reminder, you'll only receive text alerts when there is information for you about your prescription(s).
We will make every effort to consolidate text alerts if you have more than one prescription with us.
Yes, please speak with any pharmacy team member at your local CVS Pharmacy or go online to update your number. If you have a CVS.com® account, sign in and go to the pharmacy home page or my Account page. Then click the Add/Update button near the Text Alerts icon to change your phone number.
Yes. We'll send text alerts in Spanish if your profile indicates that it's your preferred language. Speak with any pharmacy team member at your local CVS Pharmacy® to check or update your profile.
Yes, please speak with any pharmacy team member at your local CVS Pharmacy® to update your family member or other adult's profile.
CVS Pharmacy Text Messaging Terms and Conditions
Read these Terms and Conditions (this "Agreement") for important information about our text alert services ("CVS text alerts"). This agreement contains a mandatory arbitration of disputes provision that requires the use of arbitration on an individual basis to resolve disputes, rather than jury trials or class actions.
CVS Pharmacy, Inc. or one or more of its affiliates (CVS) offers access to pharmacy and healthcare service messages via recurring SMS (Short Message Service) and MMS (Multimedia Message Service) text alerts. Enrollment in text alerts requires a patient to provide his or her own mobile phone number with an area code within the 50 United States or the District of Columbia. By enrolling to receive CVS text alerts, you agree to these terms and conditions, which become effective upon your enrollment. You may be asked to verify your mobile phone number before the service will start. This requires responding to a text alert sent to your mobile phone confirming your enrollment in this Service.
You acknowledge that text alerts will be sent to the mobile phone number you provide to CVS. Such alerts may include limited personal information about your prescriptions, and whoever has access to the mobile phone or carrier account will also be able to see this information. Once you enroll, the frequency of text alerts we send to you will vary. You will typically receive text alerts when we have information for you about your prescriptions or other healthcare information. CVS Pharmacy does not impose a separate charge for text alerts; however, your mobile carrier's message and data rates may apply depending on the terms and conditions of your mobile phone contract. You are solely responsible for all message and data charges that you incur. Please contact your mobile service provider about such charges. The following carriers are supported: AT&T, Sprint, Boost, Verizon Wireless, U.S. Cellular®, T-Mobile®, Cincinnati Bell, Alltel, Virgin Mobile USA, Cellular South, Unicel, Centennial and nTelos.
You may opt out of CVS text alerts at any time. To stop receiving text alerts, text STOP to CVS-TXT (287-898) or CVS-RXS (287-797) or TXT-CVS (898-287) or CVS-SIM (287-746) or CVS-DEL (287-335) or (847-565-2563) or (847-545-0693). After you submit a request to unsubscribe, you will receive one final text alert from CVS confirming that you will no longer receive text alerts. No additional text alerts will be sent unless you re-activate your enrollment. For questions about text alerts, text the word Help to CVS-TXT (287-898), CVS-RXS (287-797), TXT-CVS (898-287), CVS-SIM (287-746), CVS-DEL (287-335), (847-565-2563), (847-545-0693) or contact CVS at 1-877-833-9620. You also can change your text alert preferences on CVS.com if you have an account with prescription management. Sign in and go to your pharmacy main page. Click on the On/Off button in the Pharmacy Messages section to change your preferences.
The CVS text alert programs are offered on an "as is" basis and: (1) may not be available in all areas at all times; and (2) may not continue to work in the event of product, software, coverage or other service changes made by your wireless carrier. CVS may change or discontinue any of its text alert programs without notice or liability to you. CVS and its related companies and each of their respective officers, directors and employees are not responsible and shall not be liable for any losses or injuries of any kind resulting, directly or indirectly, from any CVS text alert program or from technical failures or delays of any kind. CVS reserves the right to cease delivery of text alerts to any person at anytime in its sole discretion.
Dispute Resolution: Except for disputes that qualify for small claims court, all disputes arising out of or related to this agreement or any aspect of the relationship between you, on the one hand, and cvs or its suppliers or vendors, on the other hand, whether based in contract, tort, statute, fraud, misrepresentation or any other legal theory, will be resolved through final and binding arbitration before a neutral arbitrator instead of in a court by a judge or jury and you agree that cvs and you are each waiving the right to trial by a jury. You agree that any arbitration under this agreement will take place on an individual basis; class arbitrations and class actions are not permitted and you are agreeing to give up the ability to participate in a class action. The arbitration will be administered by the American Arbitration Association ("AAA") under its Consumer Arbitration Rules (currently available at https://www.adr.org/aaa/faces/rules/searchrules/rulesdetail?doc=ADRSTAGE2021424), as amended by this Agreement. The arbitrator will conduct hearings, if any, by teleconference or videoconference, rather than by personal appearances, unless the arbitrator determines upon request by you or by us that an in-person hearing is appropriate. Any in-person appearances will be held at a location which is reasonably convenient to both parties with due consideration of their ability to travel and other pertinent circumstances. If the parties are unable to agree on a location, such determination should be made by the AAA or by the arbitrator. If you are able to demonstrate that the costs of arbitration will be prohibitive as compared to the costs of litigation, CVS will pay as much of your filing and hearing fees in connection with the arbitration as the arbitrator deems necessary to prevent the arbitration from being cost-prohibitive. The arbitrator's decision will follow the terms of this Agreement and will be final and binding. The arbitrator will have authority to award temporary, interim or permanent injunctive relief or relief providing for specific performance of this Agreement, but only to the extent necessary to provide relief warranted by the individual claim before the arbitrator. The award rendered by the arbitrator may be confirmed and enforced in any court having jurisdiction thereof. Notwithstanding any of the foregoing, nothing in this Agreement will preclude you from bringing issues to the attention of federal, state or local agencies and, if the law allows, they can seek relief against us for you.
With the exception of any of the language above in this Dispute Resolution provision relating to the waiver of class and representative actions, if a court decides that any part of this Dispute Resolution provision is invalid or unenforceable, the other parts of this Dispute Resolution provision shall still apply. If a court decides that any aspect of the language above in this Dispute Resolution provision relating to the waiver of class and representative actions is invalid or unenforceable, then the entirety of this Dispute Resolution provision shall be null and void. The remainder of the Agreement will continue to apply and be unaffected by this severability provision.