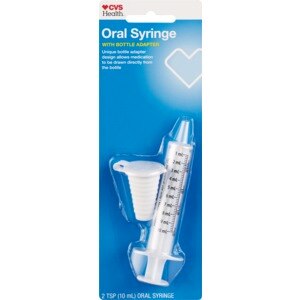 CVS Oral Syringe 2 Tsp/10 mL
With bottle adapter. Unique bottle adapter design allows medication to be drawn directly from the bottle. Made in China.
1. Insert bottle adapter into medication bottle with a downward twisting motion until a tight seal is made between the bottle and the bottle adapter. Open bottle adapter cover and insert tip of syringe firmly into opening in the bottle adapter with a twisting, downward motion. 2. With the syringe, bottle adapter, and bottle attached, turn the entire unit upside down. Withdraw medication into syringe by pulling out plunger. Withdraw slightly more medication into the syringe than doctor's directions indicate, and then push plunger up-ward until the desired level of medication is contained in the syringe. Excess medication will be forced back into the bottle along with any air bubbles that may cause an inaccurate reading of the medication level. Return the entire unit to the upright position and remove the syringe from the bottle adapter with a slow, upward twisting motion. 3. Place tip of syringe past the patient's (child, adult or geriatric) lips and teeth. Slowly press plunger down to dispense medication into patient's mouth. Your syringe has been calibrated to deliver an exact amount of medication once you push the plunger all the way down. You will note there is a small residual amount of medication within the tip which has not been calculated in the volume you are delivering. This amount is not part of your dosage. Remove bottle adapter and replace with original bottle cap. Failure to remove the bottle adapter may affect the stability of the medication. Care: Wash syringe and bottle adapter with warm, soapy water between uses and use a cleaning brush to remove any residue.
Small parts. This product is not a toy. Keep out of the reach of children. Choking hazard.