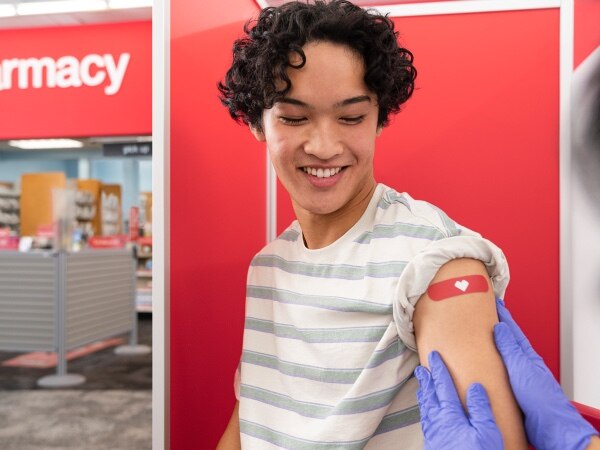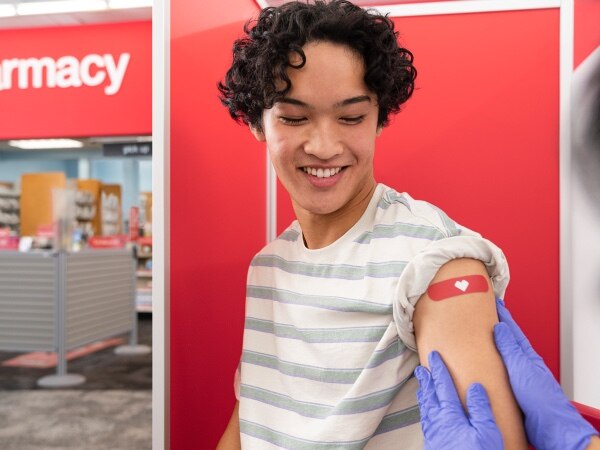 It's recommended by the CDC
The Centers for Disease Control and Prevention (CDC) recommends getting your flu shot this fall to help reduce your risk from serious illnesses from the flu, including hospitalization.*
Helps protect friends and family
That's right. Flu shots also help protect the people around you, especially important for those who are vulnerable to serious complications. Think of babies, young children as well as older people and those with certain chronic conditions.
Stay ahead of changing viruses
Because influenza viruses are always changing, the flu vaccine is reviewed annually and updated as needed.
Ready to get a vaccination?
Both CVS Pharmacy® and MinuteClinic® offer a range of vaccines. Schedule an appointment at the option that's right for you.
CVS Pharmacy
Schedule a pharmacy appointment
Locations:
9,000+ including inside Target
Ages:
Can vaccinate 3 years+ in most states
Vaccination performed by:
Certified immunizer
Setting:
Privacy curtain
MinuteClinic
Schedule a MinuteClinic appointment
Locations:
1,100+
Ages:
Can vaccinate 18 months+ in most states
Vaccination performed by:
Nurse practitioner, licensed practical nurse or physician associates*
Setting:
Private exam room
Check back for next year's flu shot information
We will be offering the flu vaccine again in August.
Here for all of your flu shot questions
About flu shots
Your flu shot may be free with medical insurance or Medicare Part B. There is no copayment unless required by your plan. We also accept cash, checks and credit cards for flu shot costs.
Standard vaccine (Quadrivalent): $49.99
Standard vaccine (Egg‐Free) (Flublok): $94.99
Adults 65+ vaccine (Fluzone High Dose, FLUAD): $94.99
It takes up to two weeks for your immunity to build up after getting a flu shot. The Centers for Disease Control and Prevention (CDC) recommends that individuals make plans to get vaccinated early in the fall, before flu season begins, and ideally by the end of October.
"However, even if you are not able to get vaccinated until November or later, a vaccination is still recommended because flu most commonly peaks in February and significant activity can continue into May," per https://www.cdc.gov/flu/prevent/keyfacts.htm
The CDC recommends an annual flu vaccination for anyone 6 months of age and older, and our pharmacies are able to vaccinate patients as young as 3 years old in some states. Ages vary by state for pharmacist‐administered immunizations, and we are working with state and local officials to enhance our vaccination offerings across the country.
Safe and important. Getting a flu shot can reduce a pregnant person's risk of being hospitalized with the flu by an average of 40 percent. The American College of Obstetrics and Gynecology and the Centers for Disease Control and Prevention recommend that women who are or will be pregnant during the flu season receive the flu shot (not the nasal spray) as soon as it is available, typically in the fall before flu season begins, and ideally no later than the end of October.
Some people should talk with a doctor first before getting a flu shot. Some examples would include:
People who have a severe allergy to eggs
People who have had a severe reaction to an influenza vaccination
People who have developed Guillain‐Barré syndrome (GBS) within 6 weeks of getting an influenza vaccine
People who have a moderate to severe illness or are feeling sick
You might have some minor side effects after getting a flu shot, with symptoms including but not limited to:
Soreness, redness or swelling of the skin where you got the shot
Low‐grade fever
Body aches
Side effects are normally mild and often go away on their own in days. Questions? Contact your health care provider or ask your CVS® pharmacist.
Flu vaccine effectiveness can vary. Some people get the flu even after being vaccinated. Typically, when that happens the severity of the illness is reduced, according to several studies.
Per tips: https//www.cdc.gov/flu/prevent/flushot.htm
Yes. We have taken steps to ensure that our colleagues and all our customers, including seniors, feel safe during immunizations. That's why we have reduced the number of touchpoints in the process and implemented new guidelines in accordance with the CDC. We ask that patients wear a face covering or mask when receiving an immunization (one will be provided, if needed). The pharmacist or MinuteClinic provider administering the immunization will be given special personal protection equipment (PPE), including a plastic face shield. A designated space was created for immunizations that will allow for adequate physical distancing, and the immunization area will be sanitized between patients.
While the flu vaccine will not protect against COVID-19, it can reduce the risk of illness, hospitalization and death due to the potentially severe complications that may occur when someone has the flu.
This season, it is likely that flu viruses and the virus that causes COVID-19 will both be circulating at the same time. So it is more important than ever to get a flu vaccine in order to reduce risk from the flu and reduce the burden on our health care system during the COVID-19 pandemic.
Yes, the CDC has confirmed that patients can get any of the currently authorized COVID‐19 vaccines at the same time as the flu vaccine.
No, there is no impact on the effectiveness of the COVID-19 vaccine if you also receive a flu vaccine because they are designed to individually help tackle their respective viruses when exposed.
No, patients will not be asked to disclose COVID-19 vaccination status at the time of receiving a flu vaccine.
You should not receive any vaccines if you have suspected or confirmed COVID-19 until you are able to discontinue isolation, regardless of whether or not you have symptoms. If you are unsure of when you are able to discontinue isolation, contact your primary care provider.
Typically, it would be fine to receive a vaccine if you have a mild illness, like a sinus infection. However, during the COVID-19 pandemic, patients should postpone vaccinations until symptoms have resolved, even if they received a negative test.
CVS Pharmacy patients can quickly and conveniently make vaccination appointments with a pharmacist by visiting this page, the CVS app or by texting FLU to 287898. They also will be able to complete a digital intake form prior to their visit to limit in-person contact at the time of vaccination. Walk-in appointments are also welcome at CVS Pharmacy throughout the flu season.
Patients can also schedule a flu shot appointment with a MinuteClinic provider or check the MinuteClinic website to see if walk‐in appointments are available in their area.
From making appointments in advance and having pharmacy patients digitally provide necessary medical information and consent in advance, to requiring necessary PPE and sanitation products during the administration of the vaccine, CVS Pharmacy and MinuteClinic locations are ensuring that all staff, patients and outside customers are abiding by physical distancing guidelines and safety precautions.
Types of flu shots
Because influenza viruses are always changing, the flu vaccine is reviewed annually and updated, as needed, to keep up.
This year CVS Pharmacy and MinuteClinic offer standard Quadrivalent (QIV) flu vaccine as well as senior-dose vaccines for adults ages 65 and older.
For patients under 65, the Centers for Disease Control and Prevention (CDC) doesn't recommend one vaccine over another. The important thing is to get vaccinated as soon as possible. Consult your local pharmacist or health care provider to learn about your options and which vaccination may be appropriate for you.
Manufacturers create over 156 million flu vaccine doses per season and distribute them across the United States. Manufacturers send the same vaccine to pharmacies (including CVS Pharmacy) and other vaccine providers (including your doctor's office and MinuteClinic). Speak with your local pharmacist for more information.