NONYX Fungal Nail Clarifying Gel, 4 OZ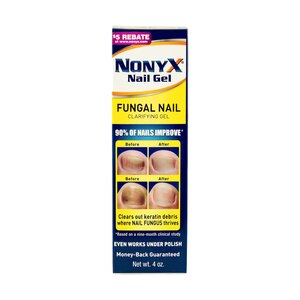 NONYX Fungal Nail Clarifying Gel, 4 OZ
4 OZ, .36 lbs. Item # 451280
Clears out dark or yellowing keratin debris, where nail fungus grows. CLINICALLY PROVEN EFFECTIVE. 90% of nails significantly improve in clarity and appearance after using NONYX (pronounced Non-X), based on a 9-month clinical study. Keratin debris is the food supply of nail fungus. Once keratin is gone, toenails and fingernails look clear and healthy again. NONYX is also effective for brittle, lifted and thickened nails. Safe for diabetics with healthy feet and a choice of doctors for over ten years. NONYX is economical and convenient to use. One 4 oz. bottle is a six month supply. NONYX can also be used UNDER NAIL POLISH! Made in the USA. Not tested on animals – contains no animal byproducts. Free of parabens and preservatives. Money-back guaranteed by the manufacturer.
Ingredients
NONYX Fungal Nail Clarifying Gel. Deionized water, ethanoic acid, xanthan gum, fragrance.
NONYX Fungal Nail Clarifying Gel. Nonyx Nail Gel dispenses through a hole in the cap tip. Apply one or two drops twice daily to the surface of nails and under the edge using the applictor tip cap. For best results always apply after bathing. Socks or shoes may be worn before the gel completely dries. After 3 to 6 weeks, gently scrape out any softened keratin debris with a manicure tool. Overall nail appearance will improve in the weeks and months that follow. Continue daily application for 6 to 12 months or until all keratin debris is exfoliated. To keep nails looking clear and attractive continue using, especially after bathing. TO USE WITH POLISH apply gel with a small brush or pad. Let dry 10 minutes then apply basecoat, color and topcoat. Thereafter apply gel daily only under the nail edge of thick or lifted nails. Remove polish every 7 - 14 days, wash nails, scrape out any softened keratin debris and repeat until nails are clear.
Warnings
For external use only. Keep out of reach of children. AVOID EYE CONTACT. This product contains an eye irritant. If eye contact occurs, flust with cool water immediately. Not recommended for use with gel-type polishES. Not recommended for nails thinned by use of artificial nails.
*Customer reviews and ratings solely reflect the views and opinions of the individual contributors and are not created or endorsed by CVS Pharmacy. Please review the product labeling and consult with your doctor with any health or medical questions.